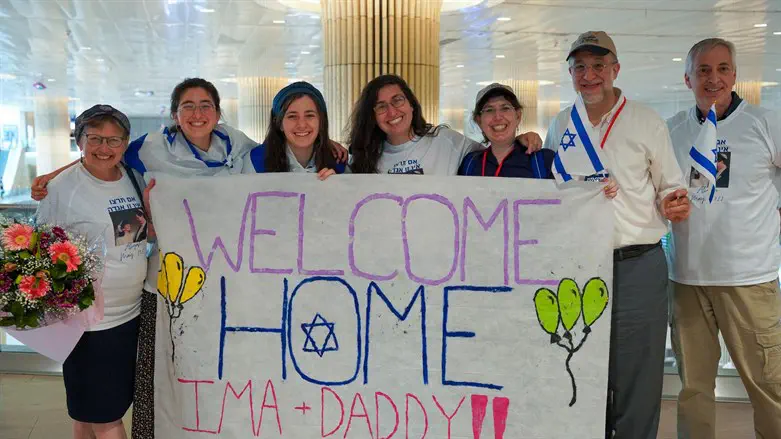 Dina & Barry Kornblau with their family after making aliyah to Jerusalem
Credit: Nefesh B'Nefesh
In celebration of Yom Yerushalayim (Jerusalem Day), Nefesh B'Nefesh (NBN) reports that Jerusalem has welcomed the largest number of olim (immigrants to Israel) in the last 20 years. In total, since the organization's establishment in 2002, over 20,000 new olim have immigrated to Jerusalem with the assistance of Nefesh B'Nefesh, in cooperation with Israel's Ministry of Aliyah and Integration, The Jewish Agency for Israel, Keren Kayemeth LeIsrael and JNF-USA.

Furthermore, the data portrays that 227 olim have immigrated to Jerusalem as of January 1, 2023, with an anticipated additional 1,200 olim expected this year. In contrast, there were 1,046 olim who moved to the city in 2022, while 1,313 oIim moved in 2021 and 874 olim moved to Jerusalem in 2020.

According to Nefesh B'Nefesh, 944 North Americans made aliyah (immigration to Israel) to Jerusalem from last Yom Yerushalayim to the present, including 260 families, 240 single men and women, 155 children, and 65 retirees. The oldest oleh to have moved to Jerusalem during this period was 99 years old, and the youngest was a 2-month-old baby.

Most of the newcomers who have made aliyah to Jerusalem within the past year are females, who number 493 of the olim, in comparison to 450 males. The top states and provinces the Jerusalem olim have originated from include New York, California, New Jersey, Florida, and Ontario.
"As we celebrate Yom Yerushalayim, it is inspiring to see the thousands of olim who now call Jerusalem 'home,' and who are making significant contributions in all areas of life in the city on an ongoing basis," said Rabbi Yehoshua Fass, Co-Founder and Executive Director of Nefesh B'Nefesh.
Thirty-seven physicians made aliyah to Jerusalem, placing theirs as the top profession of those choosing to live in the capital. Other leading professionals who made aliyah to the city include educators (35), lawyers (22), academics (15), and engineers (13).
"I am proud of Jerusalem continuing to be the leading city for olim to settle in as we continue to provide a soft landing for newcomers from around the world, specifically North Americans who have contributed significantly towards advancing and strengthening our capital city and the State of Israel as a whole," said Moshe Lion, Mayor of Jerusalem. "In collaboration with Nefesh B'Nefesh, we provide a variety of services, events, and activities to assist our city's olim, hoping to enhance the warm feeling of home as they build their new lives in Israel."