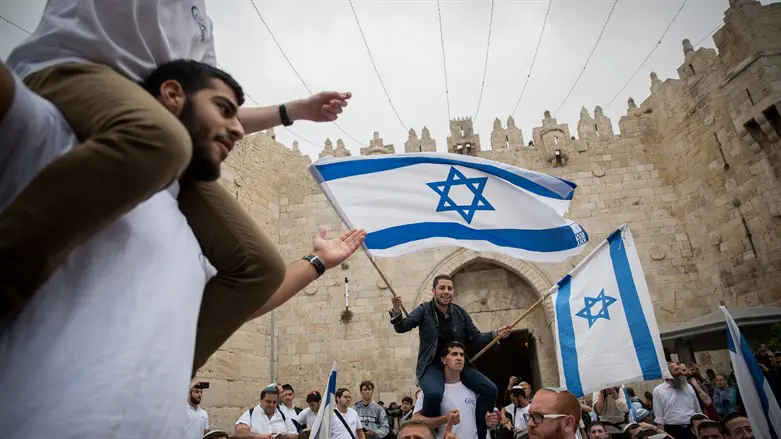 Jerusalem Day dance through Damascus Gate on way to Western Wall
Flash 90
Police Commissioner Yaakov (Kobi) Shabtai warned Wednesday that Iran and its terrorist proxies are spreading lies about the Jerusalem Day Flag march's route ending on the Temple Mount in order to incite violence on the annual celebration of the reunification of the holy city.
"For several days now, terrorist elements inspired by Iran, through Hezbollah, Hamas and extreme Islamic Jihad, have been spreading false information on social networks about the route of the flag parade that will take place tomorrow in the capital of Israel, Jerusalem," Shabtai said.
"The goal of those terrorist elements is clear, and it is to create wild incitement to terrorism against the thousands of Israelis who will come to mark Jerusalem Day," he added.
Thousands of Jews will participate in the Flag March on Thursday evening. The march will pass through the Old City of Jerusalem and end at the Western Wall. Prime Minister Benjamin Netanyahu stated earlier this week that the route would include the Muslim Quarter of the Old City as has been the case in previous years.
The Hamas terrorist organization has called on Muslims to come to the Al Aqsa Mosque to combat the celebrants at the Flag March and worshipers at the Western Wall.
Ali Baraka, Hamas' representative in Lebanon warned that "any violation of our red lines will mean that the resistance will have a say."
Baraka called the Flag March a "provocation against the Palestinian people and a violation of the sanctity of Al Aqsa."
Hamas spokesman Hazem Qasem further stated that "the so-called Zionist flag march is part of the religious war waged by the Israeli occupation against the blessed Al Aqsa Mosque and occupied Jerusalem's Arab identity."
Qasem added: "The Israeli occupation's policy of Judaising occupied Jerusalem will not alter its Arab character. The Palestinian people will continue their legitimate right to resistance against the Israeli occupation's malicious schemes."