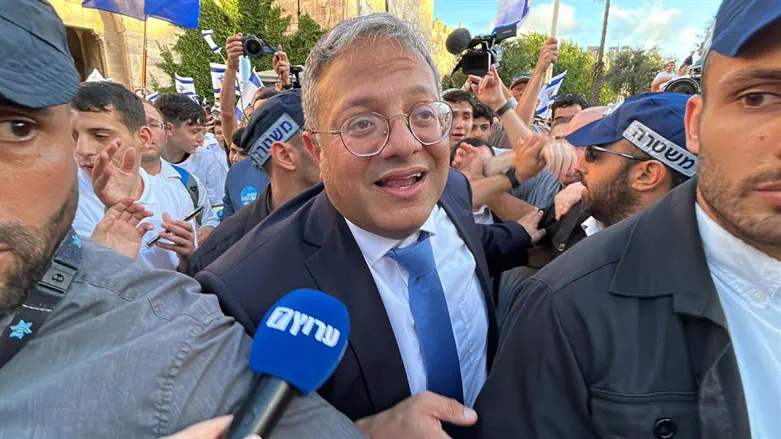 Itamar Ben Gvir
Israel National News
Minister of National Security Itamar Ben Gvir was moved to see tens of thousands of people taking part on Thursday in the Flag March in Jerusalem.
Speaking to Israel National News, Ben Gvir said, "Tens of thousands of people are here, thank god. Despite the threats, they don't blink or cave, this [city] is ours forever and ever."
Hebrew video:

MK Nissim Vaturi (Likud) shared his feelings and said, "I am excited to see many flags in all parts of the Land of Israel. There is no need to fear anyone, this is our land, including Jerusalem of course - the walls of Jerusalem. The Jewish history of the people of Israel in this place prevails over everything. We came to strengthen and get stronger, the excitement is great."
Hebrew video:

MK Ariel Kallner (Likud) said that there is "a great sense of elation, waving the flag in the right place on Jerusalem's holiday."
Responding to criticism from MK David Bitan of Likud MKs who ascended the Temple Mount earlier in the day, Kallner said, "It is okay to criticize. I invite David Bitan to go up to the Temple Mount as well."
Hebrew video: