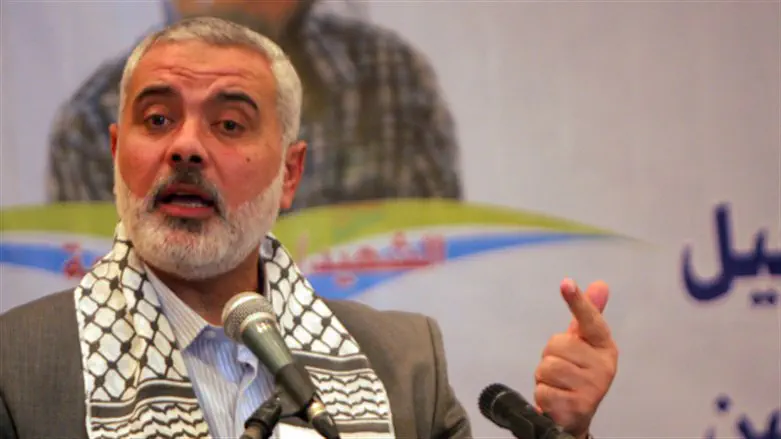 Ismail Haniyeh
Flash 90
Hamas leader Ismail Haniyeh said on Sunday that the Palestinian Arab "resistance organizations" succeeded, through their joint operations room, in taking the reins of the military initiative in managing the "revenge of the free people" campaign against Israel and thwarting its attempt to impose a new equation.
In a statement published following the end of Operation Shield and Arrow, Haniyeh said that the resistance organizations proved their ability to stop the "arrogance of the occupation" in its attempt to differentiate the Islamic Jihad in the military campaign and to drive a wedge between the Palestinian Arab resistance organizations.
In the face of these attempts, Haniyeh continued, the "resistance organizations" acted as one man and in full coordination to achieve the goals they set for themselves and to prevent the "enemy" from realizing his goals.
The organizations forced Israel to evacuate the "settlers" from the communities surrounding Gaza and to take serious security measures everywhere within the range of the rockets, claimed Haniyeh.
He praised the Islamic Jihad for the pioneering role it played within the joint operations room in a way that emphasized the unity of the fight on the ground and in the political arena which, he claimed, was one of the most important factors in thwarting the "enemy's" plans.
"First and foremost by the grace of Allah, and then with the support of our mighty people in the victorious resistance organizations, we were able to disrupt the plans of the occupation and damage its security systems, especially the so-called Iron Dome or David's Sling, and the resistance organizations established their ability to strike anywhere in the entity, even though it prides itself on its military and technical capabilities," said Haniyeh.