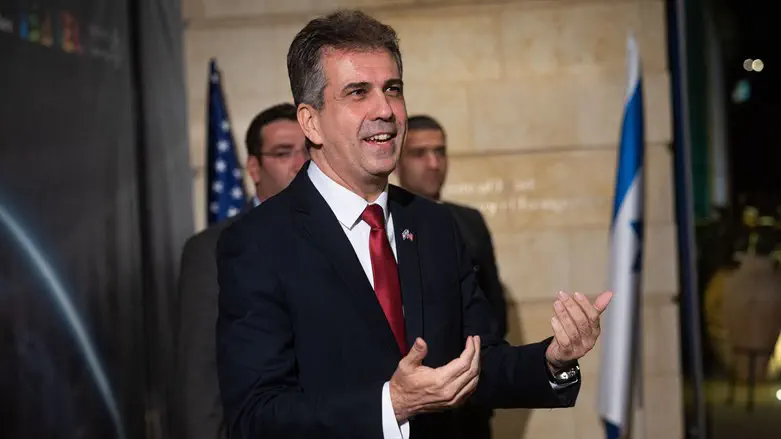 FM Eli Cohen
Yonatan Sindel/Flash90
Foreign Minister Eli Cohen told Israel National News that Israel finished Operation Shield and Arrow stronger, both militarily and diplomatically.
"We have made a very significant and important diplomatic gain, we succeeded in finishing this operation without any condemnation, and there were quite a few nations that expressed strong support for Israel's right to defend herself. For that, we spoke with foreign ambassadors in Israel, and in addition, I spoke with over ten foreign ministers from various nations, and it showed. Our goal was to provide a diplomatic shield for the security forces to do the work, and that's what happened," Cohen declared.
He added: "We proved, and I say this as a cabinet member, that we changed the equation. Islamic Jihad received a critical blow, and its leadership was annihilated. They felt frustrated that they didn't gain anything from the operation. We responded with a very substantial offensive initiative, we managed to isolate Jihad, and we proved to the world that even if we have arguments between us when it comes to security, we are all united as one nation, and the state of Israel settles the score with anyone who threatens us and tries to harm our citizens. Anyone who has Jewish blood on their hands will pay the price. Our policy of reacting fiercely will continue, and our message to our enemies is clear.
After the military campaign, the government will return to domestic affairs, starting with the national budget. "Most of the matters pertaining to the budget have already been agreed on, and I'm optimistic that within two weeks, we will pass the budget, which signals stability for the state, especially with the recent news that Isreal was Israel's rank by the credit rating agencies remains among the highest in the world," says Cohen.
According to him, the attacks on the haredi public by the opposition regarding the draft law are excessive. "The haredim are our brothers. I live in Holon, a city with all parts of the population, and everyone lives together and respects each other. The previous government was ant-haredi, worked to divide, and did not bring any change, and we are bringing significant steps for the haredi public.
Minister Cohen was also asked if Israel is vigilantly following Sunday's elections in Turkey and if a regime change is expected and answered: "I think that it's a joint interest of both nations to keep the relations between the two. I visited President Erdogan three months ago after the earthquake. The aid that the state of Israel provided and the huge delegation, which was the second largest there, is an opportunity to improve the relations between the two nations. There are mutual interests regarding regional stability, the economy, tourism, and other issues."