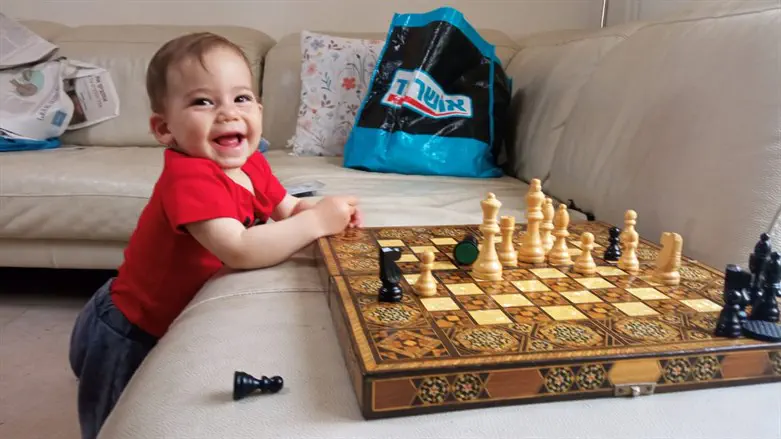 Ma'ayan Domnovitch
courtesy of family
Yana Blum, the 25-year-old driver who was involved in the Independence Day traffic collision in which one-year-old Ma'ayan David Domnovitch was killed, has been transferred from Soroka Medical Center to the Ohalay Kedar detention facility to continue her remand.
The Be'er Sheva Magistrate's Court extended Blum's detention until tomorrow (Tuesday), when she will receive another hearing on the further extension of her detention.
Attorney Guy Shemer, who represents Blum, said: "Yana is devastated and suffers from injuries and pain."
"In her condition, she certainly does not pose a risk and therefore her transfer to a detention center shows that the investigating authorities are treating her with inflexibility and insensitivity."
Blum is suspected of reckless homicide and driving under the influence of alcohol and drugs, causing the accident.
Last week, Iliya Domnovitch, the father of Ma'ayan, who was critically injured in the collision, regained consciousness. His wife, Ayala, who was moderately injured in the accident, informed him of the tragic fate of their toddler son.
The family's other children were also injured in the accident. Their oldest son, who is seven-years-old, was critically injured with a head injury.
The parents said in a video following Iliya's regaining of consciousness: "Dear people of Israel, thank G-d this week I woke up and I was happy to discover the huge hug I received from you through prayers, religious ceremonies, good deeds, and Torah study. Thank you from my entire heart, I am genuinely moved.
"Thanks, of course, to the medical team at Soroka Hospital, who gave their heart and soul and managed to pull me out of the condition that I was in," Iliya added. "Now we want to go out on a new path, go home, start recovering."