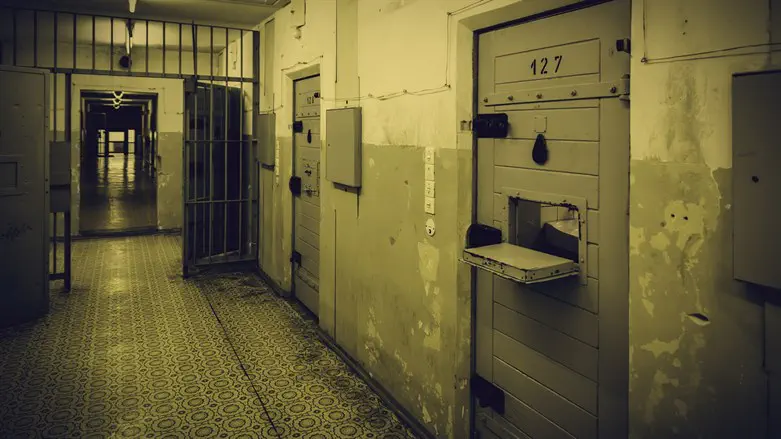 Prison (illustration)
iStock
The Palestinian Authority's Prisoners Committee announced on Friday that terrorists being held in Israeli prisons will soon start a hunger strike "in response to the murder of Khader Adnan", i24NEWS reported.
The Committee specified that the hunger strike will begin "with the end of the period of mourning for the martyr and of Gaza's response to his death." It added that the decision to launch the protest was taken after "having exhausted all pressure tools and realizing that they cannot yield positive results in cases of administrative detention."
Adnan, one of the senior leaders of the Islamic Jihad terrorist organization in Judea and Samaria, died on Tuesday in prison. Adnan, who has been arrested by Israeli security forces several times in recent years, was arrested for the 13th time on February 5, and since then had been on hunger strike for 86 days.
The Committee said that "the hunger strike… is an effective weapon which serves our efforts."
"After continuous consultations, and based on the principles of freedom and justice – which are more important than living under the humiliation of occupation – we have decided to start an open hunger strike in the coming days," the Committee said in its announcement, according to i24NEWS.
Adnan has been in and out of Israeli prisons for years, and has gone on hunger strike several times in the past. One such time was in 2012, when he was released from prison after a 66-day hunger strike.
In 2015, Adnan again managed to obtain his release from detention after a prolonged 56-day hunger strike. In the last few days, it was reported that his health has deteriorated during his latest hunger strike and there is a threat to his life.
Arab terrorist prisoners have turned hunger striking into a pressure tactic aimed at forcing Israel to release them out of fear for their lives. Israel has several times in the past caved to the pressure and released some hunger strikers.
At times, the terrorists were found to be secretly eating during the hunger strike. A prominent example of this was in 2017, when the Israel Police released footage of archterrorist Marwan Barghouti, who was caught eating in secret while maintaining the pretenses of his own hunger strike.
(Israel National News' North American desk is keeping you updated until the start of Shabbat in New York. The time posted automatically on all Israel National News articles, however, is Israeli time.)