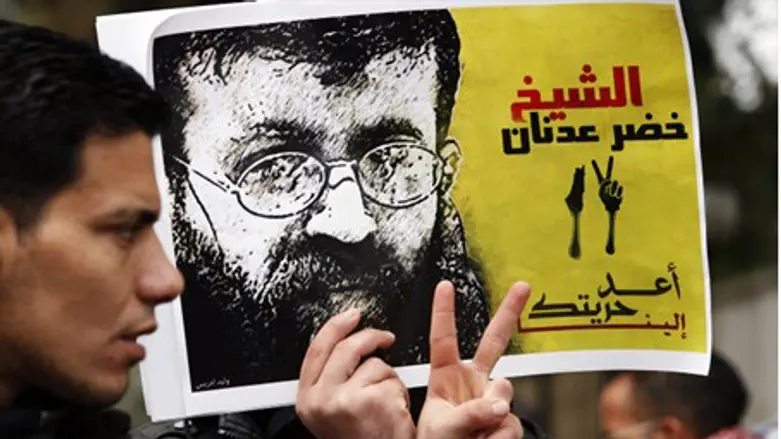 Protest for freeing terror spokesman Adnan
Israel news photo: Flash 90
Israel released on Tuesday Khader Adnan, a Palestinian Authority terrorist prisoner who went on a 66-day hunger strike over his administrative detention.
The Al-Jazeera network reported that Adnan since arrived at his home in the village of Arabah, which is located in the Palestinian Authority-controlled areas of Judea and Samaria.
Adnan, who was arrested by Israel on suspicion of terror activity on December 17, 2010, was held in administrative detention since his arrest on the basis of intelligence data indicating he is a threat to Israel's national security.
He launched a hunger strike to protest his administrative detention and was later hospitalized and released. The strike became a cause célèbre for anti-Israel activists and Arab propaganda organizations. His attorneyappealed his administrative detention order to Israel's Supreme Court.
The State later caved in to the pressure and agreed not to renew Adnan's administrative detention order. A video later surfaced in which Adnan is shown pleading for suicide bombers to "carry the next explosive belt."
Meanwhile on Tuesday, PA residents joined terrorists and security prisoners in an open-ended hunger strike, in another PR ploy for media attention for its unilateral demands for a state within Israel's borders.
The Palestinian Authority is increasing the use of mass protests to attract media sympathy in the wake of its failure to force Israel to accept all of its political and territorial demands for becoming a state. It also has failed to win recognition as an independent state from the United Nations.
Hours before a scheduled meeting between PA Prime Minister Salam Fayyad and Prime Minister Binyamin Netanyahu, the hunger strike coincided with the annual "Prisoners' Day."
Recently, Israel released from prison Hana Shalbi, a female terrorist, after a 43-day hunger strike.