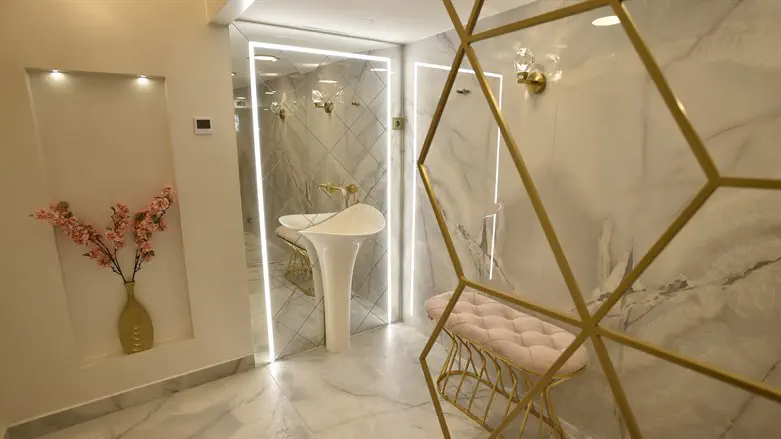 The new mikveh in Budapest
EMIH
A new mikveh (ritual bath) was inaugurated last week in Budapest, a few hundred meters from the Hungarian Parliament building.
The mikveh is in the ZSILIP community center, established about a year and a half ago by EMIH – the Chabad-affiliated Hungarian Jewish Association.
Participating in the festive ceremony were Rabbi Shlomo Koves, Chief Rabbi of EMIH; Rabbi Avraham Yehoshua Waldman, founder of Mikvah Tahara Association; Rabbi Baruch Oberlander, Av Beit Din (Head of Religious Court) of Budapest's Orthodox community; Rabbi Shmuel Glitzenstein of the Zsilip Center, and Rebbetzins Shoshi Glitzenstein and Bathsheba Oberlander.
The mikveh was built with the help of members of the local community and the Mikvah Tahara Association. This is only the second mikveh in Budapest, which has a large Jewish community. Thousands of Jewish families live in the vicinity of the Zsilip center in the Újlipótváros neighborhood, one of the most Jewish areas in Hungary. The center was established to make Judaism accessible to neighborhood residents and it includes a synagogue, a large gymboree play space, a coffee shop, an event hall, a library, a club, study rooms, and more. The EMIH community operates 15 Chabad synagogues, a kindergarten, a high school, a university, a cheder, a rabbinic certification institute, a kosher slaughterhouse, restaurants, and many other institutions.
Chief Rabbi of EMIH, Shlomo Koves, said: "A mikveh is the foundation of every Jewish community. A Jewish community is comprised of families who form a stable foundation of community, and the commandments regarding family purity are a way of life for every Jewish couple."
"Today we were privileged to open a new mikveh in an area in which there had never been one before, even though many Jews had always lived there. This is an important testimony to the revival of the Jewish community in Budapest."
Inaugurating the new mikveh in Budapest
EMIH