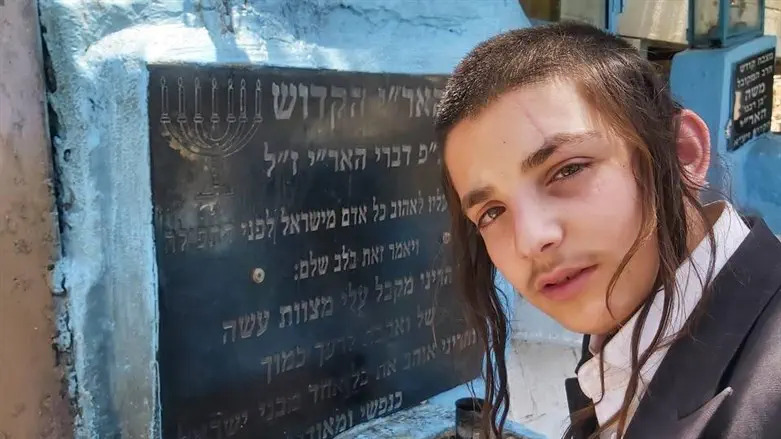 Moishe Kleinerman
Courtesy of the family
Over a year has passed since teenager Moishe Kleinerman disappeared, but on Monday morning the Jerusalem Magistrates Court extended the gag order on the investigation, as per a request by Israel Police.
In March, Gitty Kleinerman, Moishe's mother, visited Meron, marking one year since her son's disappearance.
"Today, Sunday, marks one year since our Moishy disappeared," she said then. "This is a very difficult and emotionally charged day. It is hard to believe that an entire year has passed since a young boy in Israel disappeared. It is unbelievable that we are still in this place, on the steps of Rabbi Shimon Bar Yochai's gravesite, where exactly one year ago Moishy was last seen on the security cameras, and there isn't even a clue."
She also noted the unity and support the family had received, saying, "I believe that in the merit of this unity and with the help of the prayers...we will find Moishy. I believe that in the merit of everything that the nation of Israel is doing, we will merit to greet Moishy back at home."
"If someone was here on this day one year ago with Moishy, if someone saw him, if Moishy told him something - even something small which he did not think was important - I am requesting, begging, that we be updated. We will be happy to receive any information. Even if something was said that did not seem important to you, it could be very important and it could solve the riddle of where our Moishy is."
The Israel Dog Unit (IDU), a nonprofit that has been coordinating the search, met today with Superintendent Uzi Levy, who commands the Judea and Samaria police district, and Gitty Kleinerman, with the goal of deepening cooperation in the search effort and formulating a plan for the continuation of the search effort.
IDU director Yekutiel Ben-Yaakov commented: "We salute Uzi Levy and his officers for not giving up, and for continuing to work as hard as possible until this disappearance is solved."