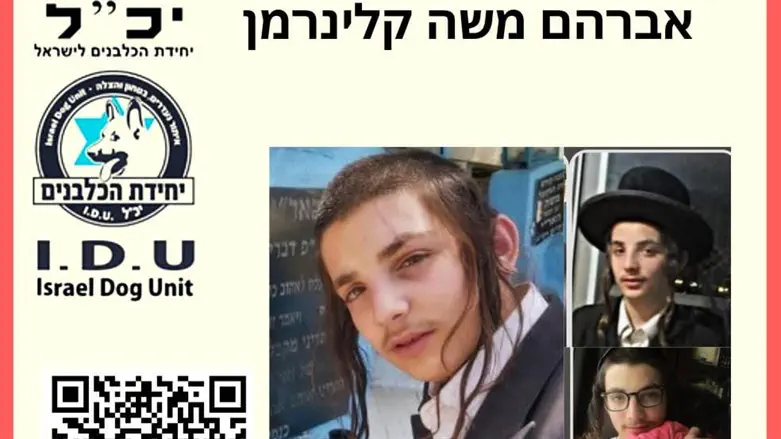 Flyer distributed as part of the search effort
IDU Public Relations
This past Sunday marked a year since the disappearance of Avraham Moshe Kleinerman, a teenager from Modi'in Ilit. His mother, Giti Kleinerman, visited the area where he was last seen and met with representatives from the Israel Dog Unit (IDU), a nonprofit that has been coordinating the search effort.
"Moishi" was approximately sixteen years old when he disappeared. He was last seen on Friday,, March 25, 2022, in the area of Meron. There has been no trace of him since. ".
IDU director Yekutiel Ben-Yaakov gave Giti Kleinerman an extensive overview of the search efforts made in the last year by the IDU in the area and presented them with the unit's strategy for continuing the search.
The family also visited the Knesset, where they attended an Otzma Yehudit party meeting and spoke with National Security Minister Itamar Ben-Gvir about the search. The family has been pressing for a national body to be established to handle missing-person cases.
The search has included the participation of significant security forces, including the ISA, IDF, Israel Police, and local authoritties. Details of the investigation remain classified, although security forces claim that there is no fear of a nationalist crime in the case. Several individuals were arrested as part of the investigation, but all were later released.