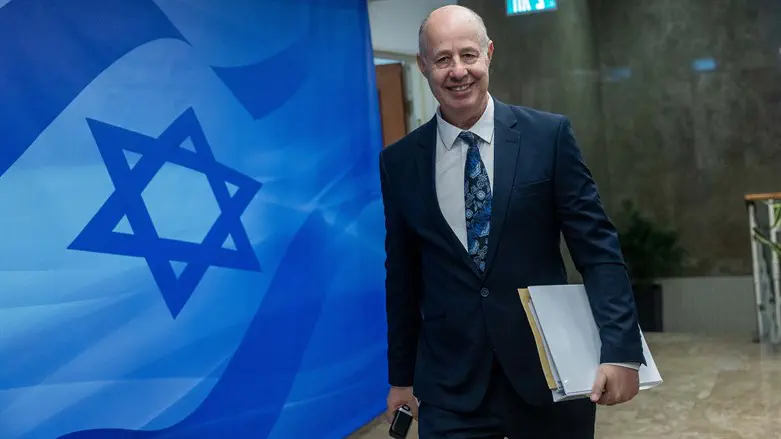 Tzachi Hanegbi
Yonatan Sindel/Flash 90
National Security Advisor Tzachi Hanegbi spoke to Channel 12 News on Friday and stated that if Iran continues to advance its nuclear program, Israel will not wait.
"If the intolerable uranium enrichment continues - Israel will act," he said, adding, "Iran is in trouble, for several years it has been unable to respond to the blows it has been receiving from Israel. Zero practical success. It is practically isolated, and what has been happening lately is that Iran sees that Israel is encroaching on it, thanks to the promotions of relations with Morocco and the United Arab Emirates."
Hanegbi made similar comments in an interview with Channel 12 News in November.
"We have already forgotten that there was a negotiation between Iran and world powers, which has in essence ended. If this negotiation does not end in an agreement and the US does not act independently, which is what I believe will happen, Prime Minister Netanyahu will work, in my estimation, to destroy the nuclear facilities in Iran," Hanegbi at the time. "If he does not do this, Israel will face an existential threat."
In Friday's interview, Hanegbi also commented on the recent tensions between the US and Israel over the government's proposed judicial reform.
"There is no doubt in my mind that if there had been no judicial reform - Netanyahu would have already visited the White House," Hanegbi said, adding, "Is such a visit relevant? No. The relationship is extremely close."
"There have never been such intimate relations between Israel and the US, in all areas, as they are today. Biden is constantly sending senior American government officials to Israel."
President Joe Biden recently offered very harsh criticism of Israel, saying he is "very concerned" about the goings on in light of the judicial reform and adding, "They cannot continue down this road."
Biden also added he will not be inviting Netanyahu to the White House in the near term.
Netanyahu later responded to Biden and said, "The alliance between Israel and the United States is unbreakable and always overcomes the occasional disagreements between us."
On the security policy of the previous government headed by Bennett and Lapid, Hanegbi claimed in Friday's interview, "It did not make any changes from the central line that Netanyahu led on the security issue: Against Iran, terrorism and a possible campaign against Hezbollah."
Amid the internal crisis in Israel following the judicial reform, Hanegbi said there is a real change in the assessment of the situation by the National Security Council.
"There is increasing boldness and defiance in all the arenas around us with a feeling that the State of Israel is crumbling," he said, though he clarified that enemy countries are not expected to start a war against Israel due to the internal crisis in the country.
"The split in Israel is interpreted by our enemy as a weakness, we will make it clear to them that there is no such weakness," said Hanegbi."We estimate that the crisis may lead to actions that were not considered before, such as the attack in Megiddo that failed. All arenas are deterred by war, but there is a chance that the conflict will escalate if it appears that Israel is in distress."
(Israel National News' North American desk is keeping you updated until the start of Shabbat in New York. The time posted automatically on all Israel National News articles, however, is Israeli time.)