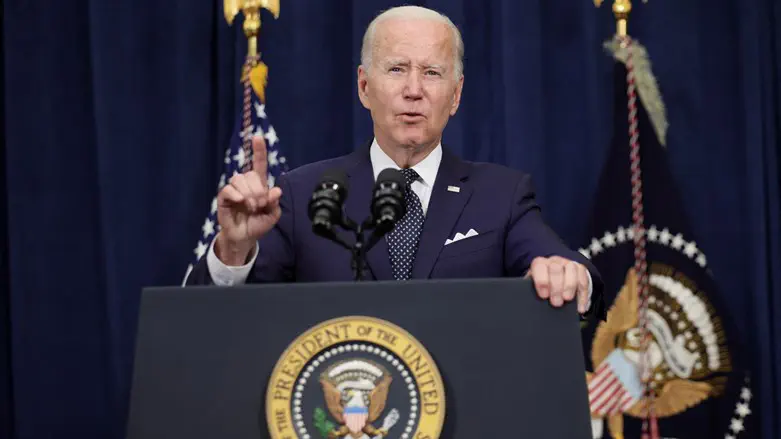 Joe Biden
REUTERS/Evelyn Hockstein
US President Joe Biden and his South Korean counterpart Yoon Suk Yeol warned North Korea on Wednesday that it would face a nuclear response and the "end" of the leadership there if Pyongyang uses its own arsenal, AFP reported.
Speaking at the White House, the two leaders said the US security shield for South Korea was being strengthened in the face of the nuclear-armed North's aggressive missile tests.
They made clear that if North Korea attacks the South or the United States, the response will be devastating.
"A nuclear attack by North Korea against the United States or its allies... will result in the end of whatever regime were to take such an action," Biden told reporters at a joint press conference with Yoon.
Yoon said his priority was to secure peace through "superiority of overwhelming forces and not a false peace based on the goodwill of the other side."
"In the event of a North Korean nuclear attack," he said, Washington and Seoul have agreed to "respond swiftly, overwhelmingly and decisively using the full force of the alliance including US nuclear weapons."
North Korea has upped its rhetoric in recent weeks, amid joint US-South Korea military drills which have angered the North.
Earlier this month, it tested a new nuclear underwater attack drone and also fired cruise missiles during a weapon test and firing drill.
A week later, North Korea successfully test-launched a new intercontinental ballistic missile powered by solid propellants.
The North has upped the volume of its ballistic missile tests in recent months. The country tested dozens of ballistic weapons in 2022, including its first intercontinental ballistic missiles since 2017.
The North's leader, Kim Jong Un, in late March called for the scaling up of the production of weapons-grade nuclear materials to increase the country's nuclear arsenal, saying it should be fully ready to use the weapons at any time.