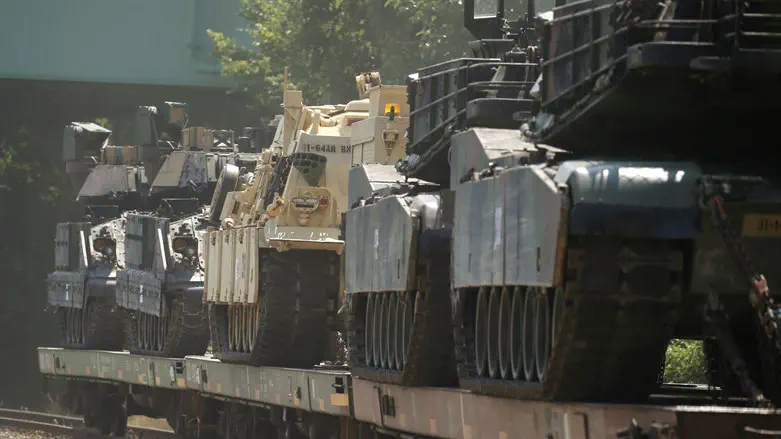 M1 Abrams tanks
REUTERS/Leah Millis/File Photo
The United States will begin training Ukrainian forces on how to use and maintain Abrams tanks in the coming weeks, as it continues to speed up its effort to get them onto the battlefield as quickly as possible, US Defense Secretary Lloyd Austin said Friday, according to The Associated Press.
The decision comes as defense leaders from around Europe and the world are meeting at Ramstein Air Base, in the effort to coordinate the delivery of weapons and other equipment to Ukraine.
According to the officials, 31 tanks will arrive at Grafenwoehr Training Area in Germany at the end of May, and the troops will begin training a couple weeks later. Officials said the troop training will last about 10 weeks.
The training tanks will not be the ones given to Ukraine for use in the war against Russia. Instead, 31 M1A1 battle tanks are being refurbished in the United States, and those will go to the frontlines when they are ready.
US President Joe Biden officially announced in January that the US will send 31 M1 Abrams battle tanks to Ukraine, reversing months of persistent arguments that the tanks were too difficult for Ukrainian troops to operate and maintain.
The decision was part of a broader political maneuver that opened the door for Germany to announce it would send its Leopard 2 tanks to Ukraine and allow Poland and other allies to do the same.
Last month, the Pentagon said it is speeding up its delivery of Abrams tanks to Ukraine, opting to send the refurbished older model that can be ready faster, with the aim of getting the 70-ton battle powerhouses to the war zone by the fall.
Friday's announcement came as ministers and representatives from about 50 nations gathered for the US-led meeting of what's called the Ukraine Defense Contact Group.
Austin, speaking to reporters at the close of the meeting, said the delivery of training tanks in the next few weeks represents "huge progress."
"I'm confident this equipment — and the training that accompanied it — will put Ukraine's forces in a position to continue to succeed on the battlefield," added Austin, as quoted by AP.
Gen. Mark Milley, chairman of the US Joint Chiefs of Staff, added that he believes the American tanks will be very effective on the battlefield. "I do think the M1 tank will make a difference," he said, while cautioning "there is no silver bullet in war."
Officials say about 250 Ukrainian troops will be trained — with some learning to operate the tanks and others learning to repair and maintain them. Additional training on how to fight and maneuver with the tanks could also be provided after the initial 10 weeks.
(Israel National News' North American desk is keeping you updated until the start of Shabbat in New York. The time posted automatically on all Israel National News articles, however, is Israeli time.)