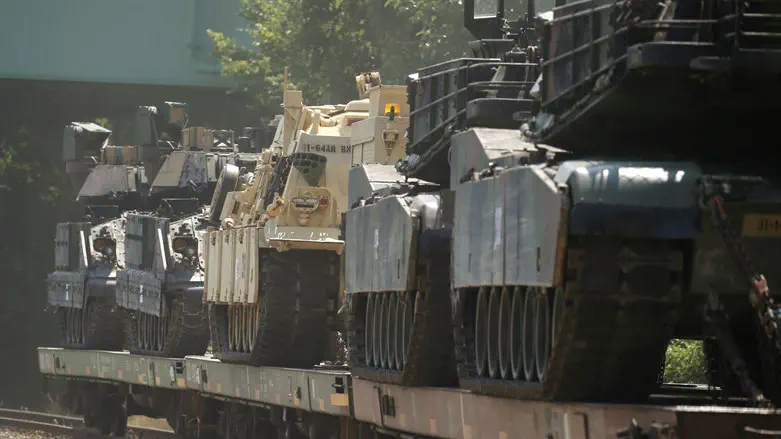 M1 Abrams tanks
REUTERS/Leah Millis/File Photo
The Pentagon is speeding up its delivery of Abrams tanks to Ukraine, opting to send a refurbished older model that can be ready faster, with the aim of getting the 70-ton battle powerhouses to the war zone by the fall, the Pentagon said Tuesday, according to The Associated Press.
The original plan was to send Ukraine 31 of the newer M1A2 Abrams, which could have taken a year or two to build and ship. However, officials said the decision was made to send the older M1A1 version, which can be taken from Army stocks.
Officials said the M1A1 also will be easier for Ukrainian forces to learn to use and maintain as they fight the invading Russian forces.
"This is about getting this important combat capability into the hands of the Ukrainians sooner rather than later," said Brig. Gen. Pat Ryder, the Pentagon press secretary.
US President Joe Biden officially announced in January that the US will send 31 M1 Abrams battle tanks to Ukraine, reversing months of persistent arguments that the tanks were too difficult for Ukrainian troops to operate and maintain.
The decision was part of a broader political maneuver that opened the door for Germany to announce it would send its Leopard 2 tanks to Ukraine and allow Poland and other allies to do the same.
Speaking at a Pentagon press conference on Tuesday, Ryder said the tanks will be refurbished and refitted to make them combat ready for Ukraine. He declined to say where that work will be done.
It is unclear how soon the U.S. would begin training Ukrainian forces on how to use, maintain and repair the tanks. The intention would be to have the training of the troops coincide with the refurbishment of the tanks, so that both would be ready for battle at the same time later this year, said US officials, who spoke on condition of anonymity to discuss details not publicly provided.
The Pentagon will also have to ensure that Ukrainian forces have an adequate supply chain for all the parts needed to keep the tanks running.
Ukrainian leaders have persistently pressed for the Abrams, which first deployed to war in 1991 and has thick armor, a 120 mm main gun, armor-piercing capabilities and advanced targeting systems. It runs on thick tracked wheels and has a 1,500-horsepower turbine engine with a top speed of about 42 miles per hour.