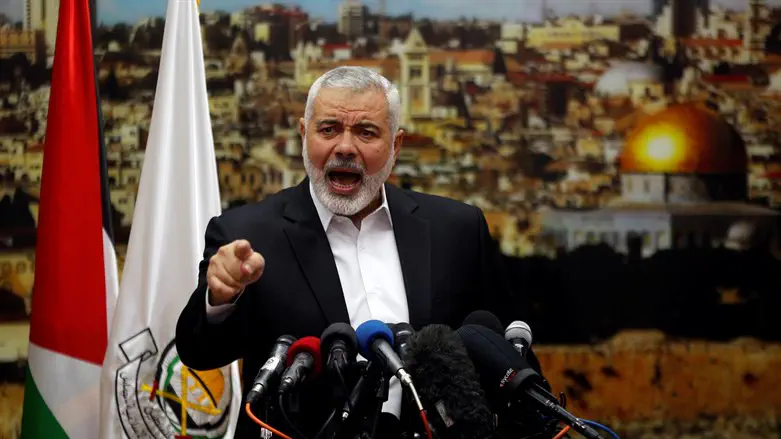 Ismail Haniyeh
Reuters
The leadership of terrorists from the Islamic Jihad who are serving time in Israeli prisons on Monday stated that it places full responsibility on Israel for the life of Khader Adnan, who has been on hunger strike for 72 consecutive days in protest of his administrative detention.
Adnan has been in and out of Israeli prisons for years, and has gone on hunger strike several times in the past. One such time was in 2012, when he was released from prison after a 66-day hunger strike.
In 2015, Adnan again managed to obtain his release from detention after a prolonged 56-day hunger strike. In the last few days, it was reported that his health has deteriorated during his latest hunger strike and there is a threat to his life.
Ismail Haniyeh, the leader of Hamas, said that his organization is committed to working to protect and bring about the release of security prisoners from prisons in Israel.
Hamas, claimed Haniyeh, succeeded in imposing on Israel an "honorable equation" for the release of prisoners in an exchange deal, alluding to the Shalit deal in 2011 and to Hamas' current demand that Israel release over 1,000 terrorists in exchange for the return of the bodies of IDF soldiers and missing Israelis who are being held in Gaza.
In a statement on the occasion of "Prisoner's Day", which was held on Monday, Hamas said that the issue of releasing the prisoners from the "enemy's" prisons is a distinct national issue, and it "will remain at the top of the movement's priorities, which will spare no effort or means to fulfill its commitment to them and release them."
Hamas warned the "fascist occupation government" against escalating its "crimes" against the "heroic prisoners" by imposing on it full responsibility for their lives and well-being, in particular the sick prisoners, minors and women.
Arab terrorist prisoners have turned hunger striking into a pressure tactic aimed at forcing Israel to release them out of fear for their lives. Israel has several times in the past caved to the pressure and released some hunger strikers.
At times, the terrorists were found to be secretly eating during the hunger strike. A prominent example of this was in 2017, when the Israel Police released footage of archterrorist Marwan Barghouti, who was caught eating in secret while maintaining the pretenses of his own hunger strike.