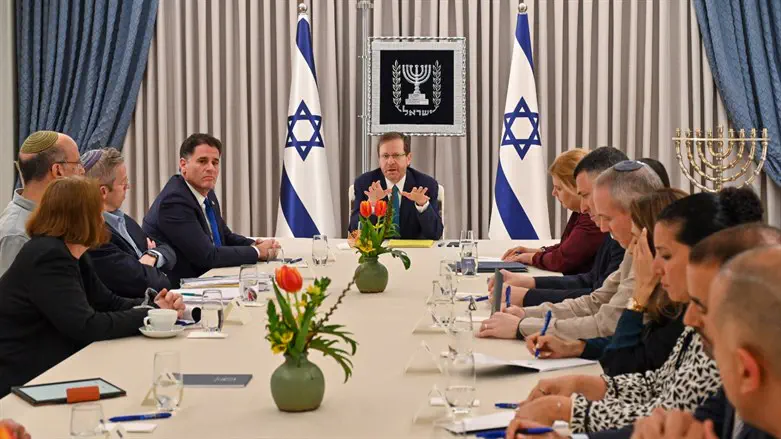 Pres. Herzrog hosts judicial reform talks
Kobi Gideon/GPO
Israeli President Isaac Herzog said in an interview with the New York Times today (Wednesday) in which he expressed optimism on the possibility of reaching a negotiated compromise on the judicial reform issue in Israel.
"It's a potential for a constitutional moment. A moment where we can direct Israel into a stronger and more resilient structure. Something which we didn't do since our founding 75 years ago," Herzog said.
Addressing the rocket attacks on Israel from Gaza and Lebanon last week, Herzog warned the terrorist proxies of Iran not to mistake the internal dispute in Israel over the judicial reform issue for Israeli weakness.
"We have always been united when it comes to our defense and security. Israel is extremely strong and is capable of taking action if needed," the President declared.
Following Prime Minister Benjamin Netanyahu's announcement last month that the government's judicial reform legislation would be frozen, President Herzog has presided over negotiations between the coalition and opposition parties at his official residence on a new version of the judicial reform issue that will enjoy widespread support.
Herzog said that the negotiations represent a "historic burden on my shoulders."
"I'm perhaps the only element in Israeli public life that all parties can feel free to come and speak to and confide with," he said.
Herzog said that he is cautiously optimistic that the negotiations will have the desired outcome because "there's a lot of good will in the room since we started the negotiations two weeks ago."
I'm not naïve," he declared, but he stated that "I still give it a chance."