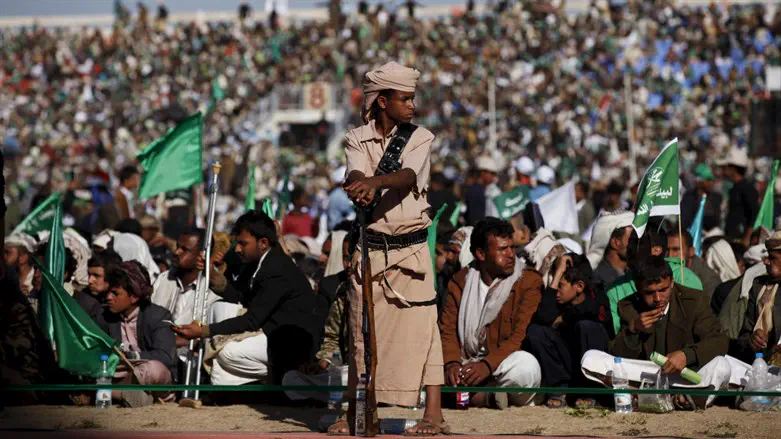 Houthis in Yemen
Reuters
Saudi and Omani delegations held talks with Houthi officials in Yemen's capital Sanaa on Sunday, Reuters reported, citing Houthi-run media, as Riyadh seeks a permanent ceasefire to end its military involvement in the country's long-running war.
The visit indicates progress in the Oman-mediated consultations between Riyadh and Sanaa, which run in parallel to UN peace efforts, the report stated.
Oman, which shares borders with Yemen, has been trying for years to bridge differences between Yemen's warring parties, and more broadly between Iran and Saudi Arabia and the United States.
The envoys, who landed late on Saturday, met with the head of Houthi Supreme Political Council, Mahdi al-Mashat, in Sanaa's presidential palace, Houthi news agency SABA reported.
President Al-Mashat reiterated the group's position that it seeks an "honorable peace" and that the Yemeni people aspire to "freedom and independence", it added.
Both sides will negotiate ending hostilities and the lifting of a Saudi-led blockade on Yemeni ports, the report stated.
The initiatives to achieve peace between the sides have gained momentum since Saudi Arabia and Iran agreed to re-establish ties in a deal brokered by China.
US and Saudi officials said recently that Iran has agreed to halt covert weapons shipments to its Houthi allies in Yemen as part of the deal with Saudi Arabia.
It has long been believed that Iran is planning to use the Houthis to take over Yemen and seize the key strategic port of Aden, which controls the entrance to the Red Sea and ultimately to the Israeli resort city of Eilat.
Iran denies it is backing the Houthis and has also denied Saudi Arabian accusations that Tehran provided the Houthi rebels in Yemen with ballistic capabilities.
After Saudi Arabia and Iran announced the deal to re-establish diplomatic ties seven years after they were severed, officials in both countries said that Iran would press the Houthis to end attacks on Saudi Arabia. One Saudi official said that the kingdom expects Iran to respect a UN arms embargo meant to prevent weapons from reaching the Houthis. A cutoff of weapons supplies could make it harder for the militants to strike the kingdom and seize more ground in Yemen.