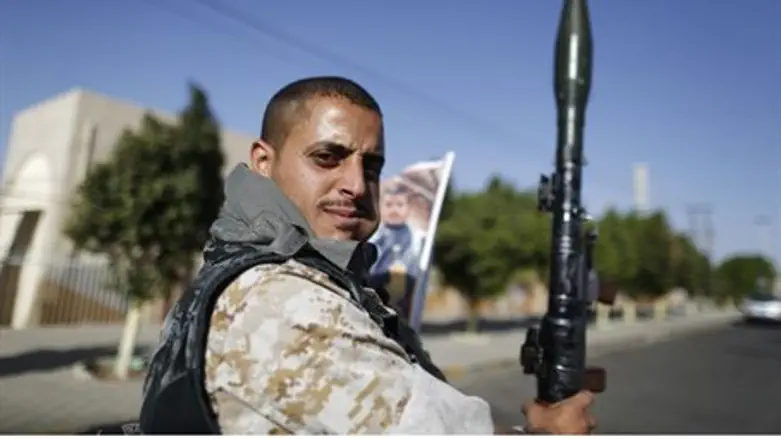 Houthi fighter
Reuters
Following the Iranian-backed Shiite Houthi rebels' occupation of the mostly Sunni Yemeni city of Ta'izz in south-west Yemen, the Houthis are a small step from surging south-ward to the Yemeni Port of Aden, and effectively controlling the Yemeni side of the critical naval chokepoint of Bab el-Mandeb, or Mandab Strait.  
The military run south from Ta'izz to Port of Aden is downhill, and has no natural barriers. So, with Iran's recent massive arms resupply of the Houthis through the Red Sea Port Saleef with 185 tons of weapons, the Houthi's occupation of Aden is likely to occur soon. 
Houthi surge Mark Langfan
In 2006, it was estimated that 3.3 million tanker barrels of oil pass through the Mandab Strait each day, out of a total world oil tanker trade of about 43 million barrels. The Iranian-backed Houthi control of the Mandab Strait would mean that Iran effectively controls yet another naval chokepoint in addition to the Strait of Hormuz which exits the Persian Gulf. 
About 17 million barrels of oil, or close to 35% of the world's tankered oil supply, pass through the Strait of Hormuz daily. 
Bab el-Mandeb, or literally the "Gateway of Tears," is the critical naval connector of the Mediterranean Sea with and the Indian Ocean. The Mandab Strait more immediately directly connects the southern outlet of the Red Sea with Gulf of Aden to the north-western aspect of the Arabian Sea. While Yemen controls the Arabian Peninsula's eastern side of the Mandab Strait, Djibouti and Eritrea control the African western side of the critical strait.
With the Shiite Houthis militarily running the table south to Aden and controlling the western part of the country, they will have effectively occupied the territory holding 85% of Yemen's population of 24 million people. Of Yemen's total population, 57% are Sunnis and 42% are Shia of the Zaidi denomination, from which the Shiite Houthis are derived. 
The eastern remainder of Yemen is relatively sparsely populated and mostly controlled by the Sunni extremist group al Qaeda of the Arabian Peninsula, or AQAP. Also, with by occupying the ground down south through to Aden, the Shiite Houthis will be in charge of close to 10 million of Yemen's Sunnis.