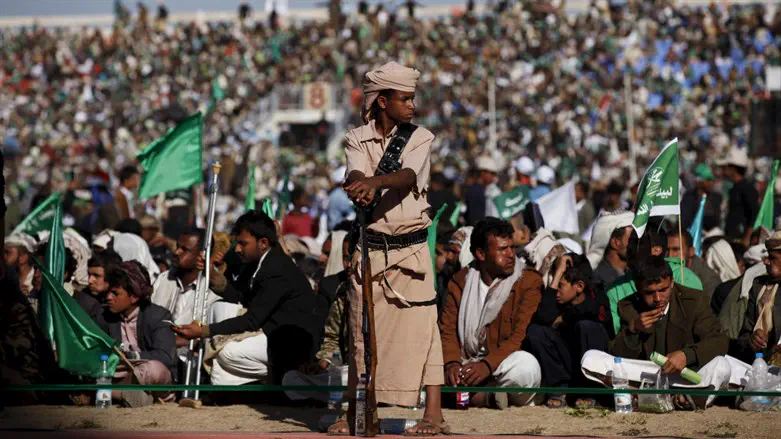 Houthis in Yemen
Reuters
Iran has agreed to halt covert weapons shipments to its Houthi allies in Yemen as part of a China-brokered deal to re-establish diplomatic relations with Saudi Arabia, US and Saudi officials told The Wall Street Journal on Thursday.
If Tehran does stop arming the Houthis, it could put pressure on the group to reach a deal to end the conflict, the US and Saudi officials said.
Iran and Yemen have been on opposing sides in the conflict in Yemen. Saudi Arabia has been leading a military coalition backing Yemen's internationally recognized government, while Iran has aided the country's Houthi rebels.
It has long been believed that Iran is planning to use the Houthis to take over Yemen and seize the key strategic port of Aden, which controls the entrance to the Red Sea and ultimately to the Israeli resort city of Eilat.
A spokesman for the Iranian delegation to the United Nations declined to comment when asked whether Tehran would suspend arms shipments.
Iran denies it is backing the Houthis and has also denied Saudi Arabian accusations that Tehran provided the Houthi rebels in Yemen with ballistic capabilities.
After Saudi Arabia and Iran announced the deal to re-establish diplomatic ties seven years after they were severed, officials in both countries said that Iran would press the Houthis to end attacks on Saudi Arabia. One Saudi official said that the kingdom expects Iran to respect a UN arms embargo meant to prevent weapons from reaching the Houthis. A cutoff of weapons supplies could make it harder for the militants to strike the kingdom and seize more ground in Yemen.
US and Saudi officials said they want to see if Iran holds up its end of the bargain as Tehran and Riyadh proceed with plans outlined in the deal to reopen their respective embassies in two months.
The agreement to resume Saudi-Iran relations "gives a boost to the prospect of a [Yemen] deal in the near future," while Iran's approach to the conflict will be "kind of a litmus test" for the success of last week's diplomatic deal, one US official told The Wall Street Journal.