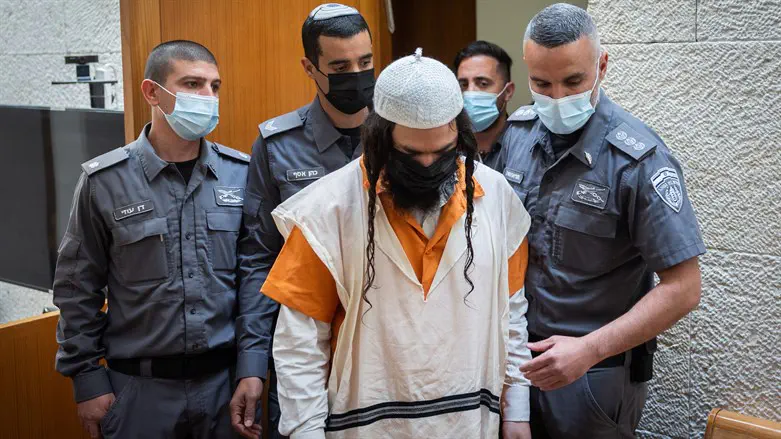 Amiram Ben Uliel
Yonatan Sindel/Flash90
Amiram Ben Uliel, the man who was convicted for the 2015 murder of the Dawabshe family in the village od Duma, will be released from solitary confinement for the first time to participate in the Passover Seder in the religious wing of the Ayalon Prison, Kan News reported.
Shmuel Medad, the head of the Honenu legal organization, appealed yesterday (Monday) to Chief Rabbis Yitzhak Yosef and David Lau to work with the Israel Prison Service to allow Ben Uliel to have a traditional Passover Seder with other prisoners instead of being forced to remain in solitary confinement.
In his letter, Medad described the harsh conditions in which Ben Uliel is being held: "Amiram Ben Uliel, a young man and the father of a younggirl, has been imprisoned for 7.5 years in the most difficult conditions in the State of Israel, isolated in a small cell in a prison without any contact with anyone from the outside, not even with other prisoners."
"It seems that there are those who want to hurt Amiram and cause him to go mad. Amiram was convicted for the arson incident in the village of Duma in one of the most heinous verdicts the State of Israel has ever seen, when he was sentenced to three cumulative life sentences based on a confession that was extracted from him under severe torture and without any other supporting evidence," explained Medad.
"It is not regarding his conviction that I appeal to you now," he wrote to the Chief Rabbis. "It is on the occasion of the Festival of Freedom that I ask you to do as you can to ensure that at least on the upcoming Seder night, Amiram will return to the holiday table in the company of other prisoners in order to alleviate his loneliness a little and allow him a feeling, even if it is slight and momentary, of freedom and the joy of a Jewish holiday."
National Security Minister Itamar Ben-Gvir said last night (Monday) that the conditions of Jewish security prisoners are a priority for him. "I worked to have the conditions of Ben Uliel and all Jewish security prisoners be the same as Arab security prisoners," wrote Ben Gvir. He added that "following this, phone calls were made for the first time in six years. Not everything depends on me, but on the Shin Bet. I continue to work for equality and fairness."