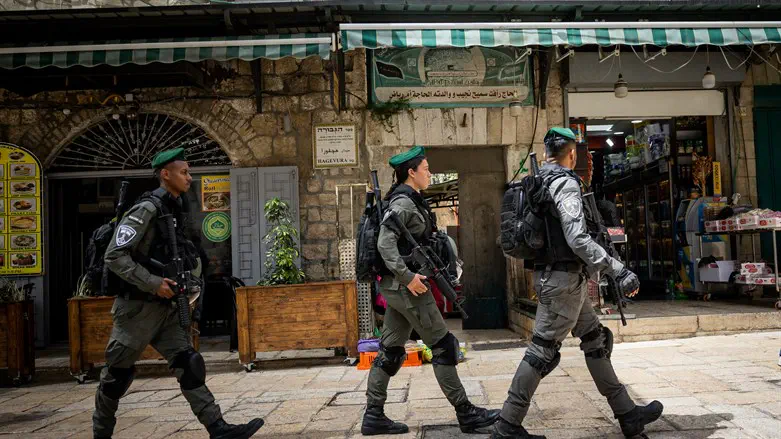 police in Old City of Jerusalem
Yonatan Sindel/Flash90
Police thwarted a terrorist stabbing attack in the Old City of Jerusalem last night (Sunday), it was cleared for publication Monday evening.
Police officers stationed near the Damascus Gate in the city noticed a resident of the southern Bedouin city of Rahat in her 30s who aroused their suspicion when she held her hand in her purse for a long time.
The officers who approached the woman to investigate found a pair of scissors in the purse and arrested her.
The woman was taken for questioning in which she admitted that she intended to stab a police officer with the scissors. This morning, the Jerusalem Magistrate's Court extended her detention by seven days.
The commander of the Jerusalem District, Superintendent Doron Turgeman, praised the vigilance and performance of the security forces who prevented the suspect from carrying out her intended attack.
"Besides thwarting many terrorist attacks on the basis of advance intelligence, the response to a single threat is first and foremost the result of the vigilance and professionalism of the police to deal with and thwart any threat and any attempt to harm them or the citizens of Israel," Turgeman said.