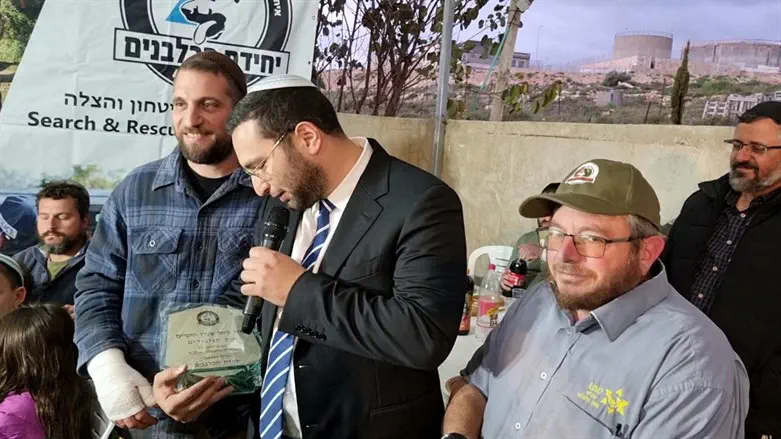 Minister Yitzchak Wasserlauf presents an award to David Stern at the tribute eve
Israel Dog Unit Public Relations
The Israel Dog Unit (IDU), a nonprofit specilizing in search and rescue held a volunteer appreciation event at its base in the town of Kfar Tapuach in Samaria. The organization dedicated the event as ' salute to the unit's volunteers who work night and day, from Kiryat Shemona in the north to Eilat in the south, with specially trained working dogs, to locate missing people and protect Israaeli towns.'
As part of the event, the organization announced the formation of a who are ready to go on alert all year round, and who will undergo special training that includes diving, rock climbing, horse riding, driving all-terrain vehicles, operating drones, and more, in addition to the use of working dogs.
The event was attended by senior police officers and public figures, among them the Minister for the Development of the Periphery, the Negev and the Galilee Yitzhak Wasserlauf.
Minister Wasserlauf presented an award to David and Rachel Stern, who had recently survived a shooting attack in the Palestinian city of Huwara. David managed to draw his own handgun and return fire, despite being shot in the head, and afterwards applied a tourniquet to himself. David Stern was one of the first instructors in the IDU, moving to Samaria and joining the organization immediately upon his release from the USMC.
The Minister of National Security, Itamar Ben-Gvir, sent a congratulatory message to the IDU in honor of the event.
The event was also attended by families of missing people who have not yet been located from the last few years. Thee families are today an integral part of the IDU.
During the event, volunteers held a celebration for completing the tractate Nazir, which discusses the Biblical Nazirite vow, of the Babylonian Talmud, as part of the global Daf Yomi (daily folio) movement. The evening was ended with a communal sing-along event.