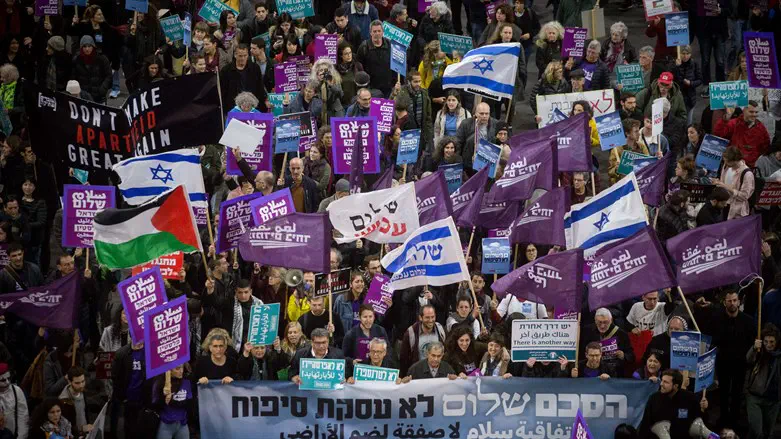 Left-wing protesters
Miriam Alster/Flash90
Scenes of disruption periodically descending into chaos can be found across the country on Monday, in the aftermath of Prime Minister Benjamin Netanyahu's decision to dismiss Defense Minister Yoav Gallant from his position, due to what Netanyahu described as his "weak and ineffectual" response to the growing phenomenon of refusal to report for military service - Netanyahu's move was nonetheless widely perceived as prompted by Gallant's outspoken call for the judicial reform program to be halted.
Tens of thousands have taken to the streets from Haifa in the north to Beer Sheva in the south, with counter-protesters also expected to turn out in force to demand that the government not back down. According to Channel 12 News, police are "monitoring the activities of extreme right-wing protesters" who have issued calls to "destroy the leftists - don't be afraid, we're going to put an end to them. They declared war on us and they're going to get war in return."
Meanwhile, Information Minister Galit Distal-Atbaryan has called on all those who support the reforms to join the pro-reform protests, writing on Twitter, "Come and protest against the likely decision of the prime minister, Benjamin Netanyahu [to halt the reforms] - they won't steal our election."
Fellow Likud MK May Golan added, "The votes of 2,304,964 Israeli citizens must be heard."
Women clad in red robes meant to signify their belief that the passage of the judicial reform package will lead to the subjugation of women are reportedly starting to gather. Organizers claim the group has 8,000 robes purchased by crowdfunding.
ההפגנה נגד הרפורמה
צילום: Shir Torem/Flash90
In Jerusalem, police are being deployed in large numbers in order to prevent any physical confrontation between pro- and anti-reform protesters. A number of left-wing protesters succeeded in breaking into the Knesset building and shouting at Likud Education Minister Yoav Kisch, "Resign!" Knesset ushers removed them.
In Tel Aviv, the Ayalon Highway is open southbound but northbound lanes remain blocked by anti-government protesters. Protesters also attempted to block Route 20, placing large rocks on the road.
Police have arrested at least two protesters for disturbing the peace, and a third female protester who is suspected of having attacked a police officer.
Other anti-reform protesters have begun to mass at Ben Gurion International Airport, where all flights are grounded and only planes that were already airborne at the time that the strike was announced are being permitted to land.