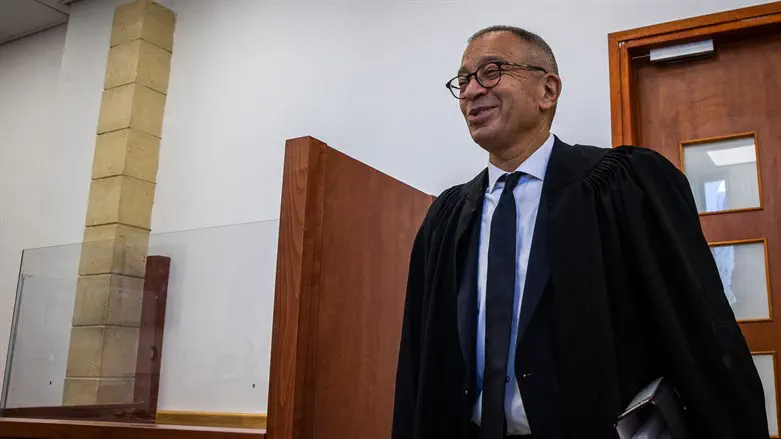 Attorney Boaz Ben Tzur
Oren Ben Hakun
Prime Minister Benjamin Netanyahu's defense attorney, Boaz Ben Tzur, has informed the premier that he will be unable to continue representing him in Case 4000 if the government's judicial reform package is not stalled, according to political commentator Amit Segal.
This latest development will only serve to mount the pressure on the prime minister to halt the progress of the judicial reform legislation in the Knesset until after Independence Day. Pressure has been mounting significantly to stall the reforms especially since Defense Minister Yoav Gallant was dismissed on Sunday evening, even though Netanyahu insisted that Gallant's removal was not connected to the judicial reforms per se, but rather to his "indecisive and weak" response to the growing phenomenon of refusal to report for military service.
Meanwhile, Attorney Michael Ravillo acting on behalf of the Prime Minister formally responded to a petition to the Supreme Court demanding that Netanyahu be recused from office. Ravillo wrote in his response that, "The position of the Prime Minister is that the petition should be categorically rejected, as the court lacks both the authority and the justification to intervene. Following the passage of the Resucal Law, decisions on such matters do not fall within the remit of the honorable Court, and therefore the petition should be summarily rejected."
Ravillo added that, "Even before the [Recusal] Law was passed, it would have been fitting for the Court to summarily reject this petition, given that the petitioners have in effect requested that the honorable Court, in the guise of an 'administrative' petition, replace an official elected by the public and issue orders that effectively remove a sitting prime minister and replace the government without the decision being made by elected officials in the Knesset, and without the legal authority to do so.
"This is an extremely serious attempt to drag the judicial system into a political maelstrom and cause it to make decisions that contradict the law and contradict the democratically elected institutions," Ravillo continued, "with no legal authority to do so. No play of words can hide the fact that there is here an attempt to uproot the entire principle of government by the people, and to conduct a judicial coup d'etat, enabled by the honorable Court."
The petition in question was submitted by the Movement for Quality in Governance, which argued that the Supreme Court is obligated to find that Prime Minister Netanyahu has breached the terms of his conflict of interest agreement and should therefore be obligated to recuse himself.
"As the Court has argued in the past - and in light of the explicit commitment made by Netanyahu - can such a situation be contemplated in which a person under criminal indictment is serving as prime minister - the painful situation confronts us in which an indicted prime minister is actually leading a drastic and swift process to deal a critical blow to the judicial system and to the institutions of enforcement," the Movement wrote in its petition.