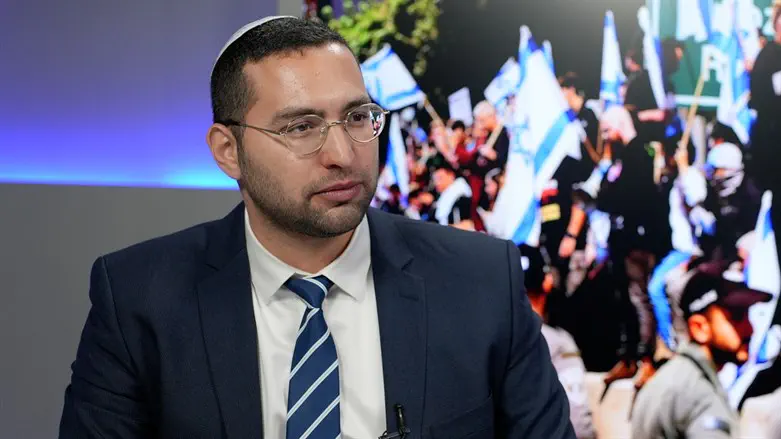 Minister Yitzkak Wasserlauf
Israel National News
A serious incident occurred on Sunday evening when an elderly man with severe chest pains was held up on his way to hospital due to a demonstration blocking the street. The man in question is the father of Minister of the Negev and the Galilee, Yitzhak Wasserlauf (Otzma Yehudit).
Writing immediately after the incident on social media, Wasserlauf described how, "I got a phone call from my father who sounded confused. He told me that he was having severe chest pains. My father has already undergone five catheterizations and a heart attack. I rushed over to his house and immediately realized that we needed to get him to the emergency room. We set off in my car, with my driver -- there was no time to wait for an ambulance. I was trying to keep him calm as we sped off.
"We reached Gaza Street [near the Prime Minister's Residence in Jerusalem] and ran straight into a protest. They had blocked the road. There was no way through. My driver honked with his horn to get the protesters to move out of the way, but they recognized my car and started to crowd around it. My father was getting really tense. The driver realized what was going on so he got out and started to look around for the police officer to explain to him that this was a literal question of life or death. The police officer grasped what was happening; meanwhile, the protesters were all trying to look into the car and yelling things," Wasserlauf wrote.
"I could hear what they were shouting: Here's the minister, that's the minister. All I cared about was my father and trying to keep him calm. He was trying to keep himself calm but not really succeeding. The police opened up the road and we sped off to Shaare Zedek hospital. My father was immediately whisked off for comprehensive tests on his heart. I pray that my father will get through this alright," he concluded.
Minister Wasserlauf's name for prayers: Yissachar ben Faiga.