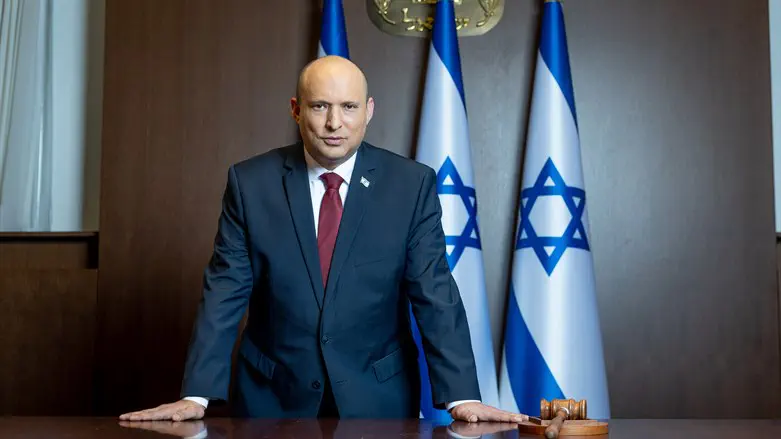 Naftali Bennett
Yonatan Sindel/Flash 90
Former Prime Minister Naftali Bennett on Sunday night called on Prime Minister Benjamin Netanyahu to cancel the dismissal of Defense Minister Yoav Gallant and suspend the legislation of the judicial reform.
"The State of Israel is in its greatest danger since the Yom Kippur War. I call on the Prime Minister to withdraw Gallant's dismissal letter, suspend the reform and enter into negotiations until after Independence Day," said Bennett.
"It doesn't matter who is right and who is wrong. I call on all the protesters and all the citizens of Israel - do everything without violence, without bloodshed. We are brothers," he added.
Earlier, Yesh Atid chairman Yair Lapid and National Unity Party chairman Benny Gantz issued a joint statement in which they called on Likud ministers not to accept the position of Defense Minister instead of Gallant.
"The security of the country cannot be a card in the political game. Netanyahu crossed a red line tonight. We call on the Likud ministers, the members of the Knesset of the Likud, do not lend a hand to the crushing of national security. Whoever assumes the role of Minister of Defense will bring disgrace upon himself. The eyes of the people are on you. It is still possible to stop," Lapid and Gantz said.
The Prime Minister's Office announced earlier that Netanyahu made the decision to dismiss Gallant, a day after Gallant's public address regarding the judicial reform plan.
"We need a change in the legal system, but such changes are made through negotiation and discourse," Gallant said. "A victory for one of the parties will be a loss of the State of Israel. We must lead a participatory and unifying process."
"For the sake of Israel's security, the legislative process should be stopped, and negotiations should be held."
Gallant had spoken with Netanyahu on Thursday, ahead of his planned address, which was delayed at the prime minister's behest.
Amid concerns within the coalition regarding Netanyahu's commitment to the overhaul, the Prime Minister made a televised statement Thursday night, pushing off his trip to London.
In his speech, Netanyahu called on the opposition to negotiate towards a compromise, while vowing not to halt legislation already under consideration in the Knesset.
Netanyahu reportedly refused Gallant's request to convene the Cabinet in order to discuss the potential consequences of blowback from the judicial reforms, apparently prompting Gallant to make his own public statement Saturday night.