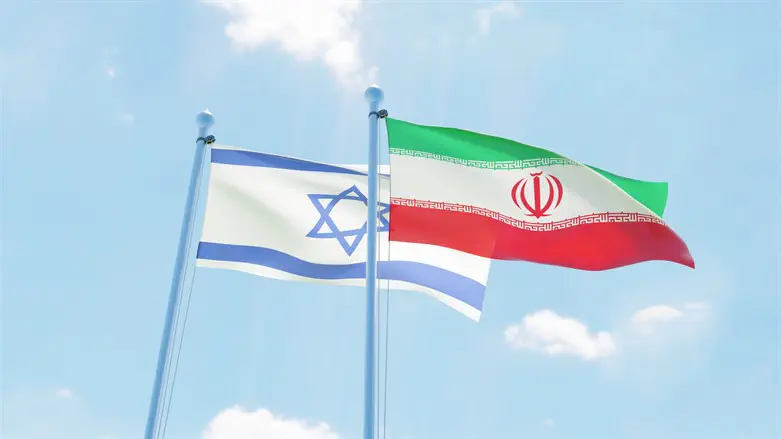 Israeli and Iranian flags
iStock
Israel told the Biden administration and several European countries that Iran would be entering dangerous territory that could trigger an Israeli military strike if it enriches uranium above the 60% level, a senior Israeli official told Axios' Barak Ravid on Wednesday.
Increasingly concerned about advances in Iran's nuclear program, Israel has in recent months ramped up its private and public threats of military action against Tehran in an apparent attempt to deter the country from escalating its nuclear program even further, according to Israeli officials.
Iran has amassed 87.5 kilograms of 60% enriched uranium, according to an International Atomic Energy Agency report from late February. Experts say that if that uranium is enriched to 90% weapons grade, it would be a sufficient quantity to produce at least one nuclear bomb.
The IAEA is continuing to investigate Iranian activity in its underground nuclear facility in Fordow, which included enriching at least small amounts of uranium to 84% purity.
Israel, however, doesn't consider the small amounts of uranium enriched at 84% purity as meaningful because Tehran didn't amass any of the material at that level, the Israeli official told Axios.
The Israeli government is not defining a public "red line" at the moment as Prime Minister Benjamin Netanyahu did in his UN speech in September 2012, the senior Israeli official said.
The official added that Israel didn't want to set 90% enrichment as a "red line" because officials believe Iran will feel it can begin enriching and amassing uranium at a level just short of weapons grade.
That is why Israel is telling US and European countries that any Iranian progress above 60% enrichment would be a step that could trigger military action against Tehran's nuclear program, the Israeli official said.
Israeli officials believe that Netanyahu's message on the issue has been passed on to Iranian officials, according to a second senior Israeli official, who recently spoke to reporters on background.
American and Israeli officials two weeks ago held talks on Iran, which a senior Israeli official later said were positive and showed that the two countries are looking at the issue from a "much closer point of view."
The meeting between the US and Israeli delegations followed the discovery by UN inspectors of the uranium enriched to 84% in Fordow.
Following that discovery, Rafael Grossi, head of the UN's nuclear watchdog, visited Tehran, where he received assurances from Iran that surveillance cameras at several nuclear sites would be reconnected and the pace of inspections increased.
The discovery of the uranium at near bomb level came talks between Iran and world powers on reviving the 2015 Iran nuclear deal remain stalled and have been since September, when Iran submitted a response to a European Union proposal to revive the deal.
A senior Biden administration official said the Iranian response "is not at all encouraging." A US official later said that the efforts to revive the 2015 Iran nuclear deal have "hit a wall" because of Iran's insistence on the closure of the UN nuclear watchdog's investigations.