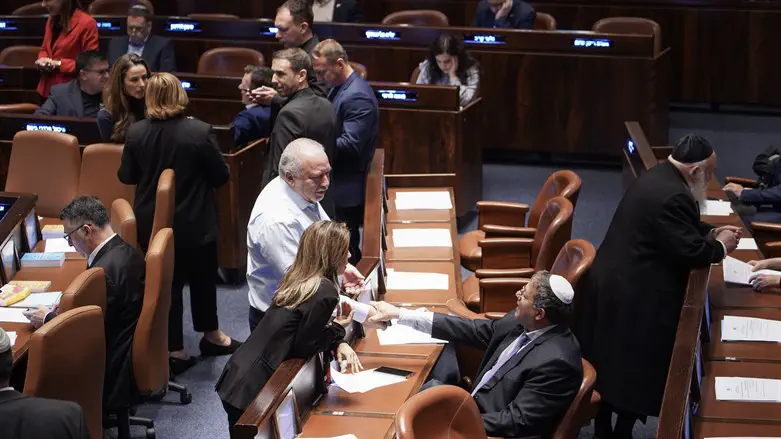 Knesset plenum
Danny Shem Tov/Knesset spokesperson
A poll conducted by the Midgam Institute and iPanel and published on Channel 12 News on Friday shows that Prime Minister Benjamin Netanyahu and opposition leader Yair Lapid are weakening, while National Unity Party chairman Benny Gantz is gaining strength.
If elections were to be held today, the poll found, the Likud Party would weaken by three seats and win 29. Yesh Atid also loses one seat and stands at 23. Gantz, meanwhile, rises to 17 seats. Bezalel Smotrich and Itamar Ben Gvir win 12 seats, down by two from the last elections.
Shas wins 10 seats in this poll. United Torah Judaism maintains its strength with seven. If elections were held today, Labor would not pass the electoral threshold, and neither would Balad. Meretz would win five seats, as would Hadash-Ta'al. Ra'am would win six seats. Avigdor Liberman's Yisrael Beytenu remains stable with six seats.
Respondents to the poll were also asked to answer who they would vote for if elections were to be held today and a new right-wing party opposing the judicial reform were to be formed. In such a scenario, the Likud Party wins 26 seats, Yesh Atid 21, National Unity 14, Otzma Yehudit 12, and the new party would win 10 seats.
If elections were to be held today in such a scenario, Labor would remain below the threshold, while Meretz would win five seats. Hadash-Ta'al, Ra'am and Yisrael Beytenu would also win five seats each. United Torah Judaism wins seven seats and Shas wins 10.
(Israel National News' North American desk is keeping you updated until the start of Shabbat in New York. The time posted automatically on all Israel National News articles, however, is Israeli time.)