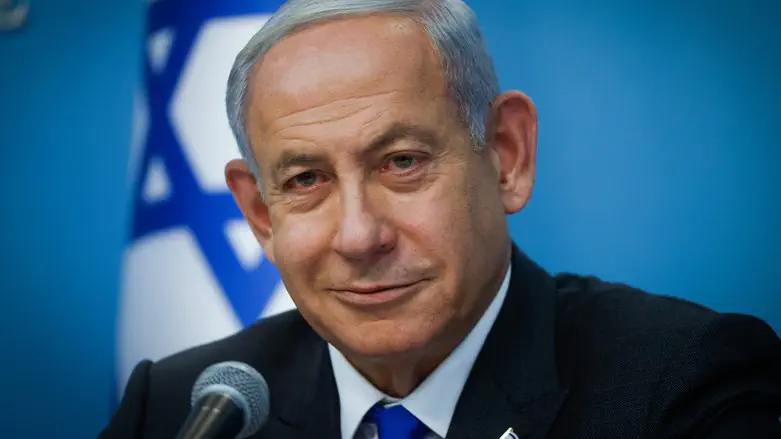 Benjamin Netanyahu
Olivier Fitoussi/Flash 90
Harsh criticism has been leveled at Prime Minister Benjamin Netanyahu by senior Likud officials over his handling of the negotiations on a compromise on the judicial reform, Kan 11 News reported on Friday.
"He is known for 'micro-managing' - and this time he is not handling such a dramatic legislative event," said the sources, who also stated that "the Prime Minister has apparently started an international trip in the European capitals of Rome/Berlin/London - this appears to be the only thing that interests him at the moment - this is not the Bibi we know, it's as though it's his look-alike operating here."
The same sources in the Likud also claimed that Netanyahu is distancing himself from the judicial reform and leaving it "abandoned" in the hands of Justice Minister Yariv Levin, who neither wants nor permits any compromise. At the moment, only several Likud MKs are calling to stop the legislation – David Bitan, Yuli Edelstein, and Danny Danon.Justice Minister Levin is marked as the most powerful member of Likud today and in practice Netanyahu's successor in the party, and the person who in essence manages all the conduct of the government and the coalition, the report said.
The report further noted that, despite Netanyahu's outright rejection of the President's compromise outline, sources close to the Prime Minister are not ruling out further negotiations on Herzog's proposal. Those sources say that he wants to reach a broad agreement that will respect the will of the voters, and the President's proposal at the current time does not do that.
Meanwhile on Friday, US Secretary of State Antony Blinken said that "consensus" is the best way forward regarding the judicial reform in Israel.
Asked if he saw judicial reform as moving away from democracy, Blinken reiterated that Israel is a democracy but added that attempting to implement "big changes" needs consensus.
"When I was there about a month ago – and this was already the subject of the day – I think the one thing that we know from our own experiences as democracies is that when you're looking to make big changes, major reforms in your laws, your institutions, consensus is maybe the most important thing in making sure that you have something that's not only accepted but that it also will last, is durable," Blinken said.
"So the only, I think, wisdom – to the extent it's wisdom that I can share – and I've spoken to this; more important, President Biden has spoken to this – is finding that consensus is the best path forward."
On Thursday, US National Security Council spokesman John Kirby said that the US supports President Herzog's compromise proposal.
"The genius of our democracy — and frankly Israel's democracy — is that they're built on strong institutions, that they include checks and balances that foster an independent judiciary," he said, adding, "We support President Herzog's ongoing effort to seek a solution that is consistent with those same democratic principles."
(Israel National News' North American desk is keeping you updated until the start of Shabbat in New York. The time posted automatically on all Israel National News articles, however, is Israeli time.)