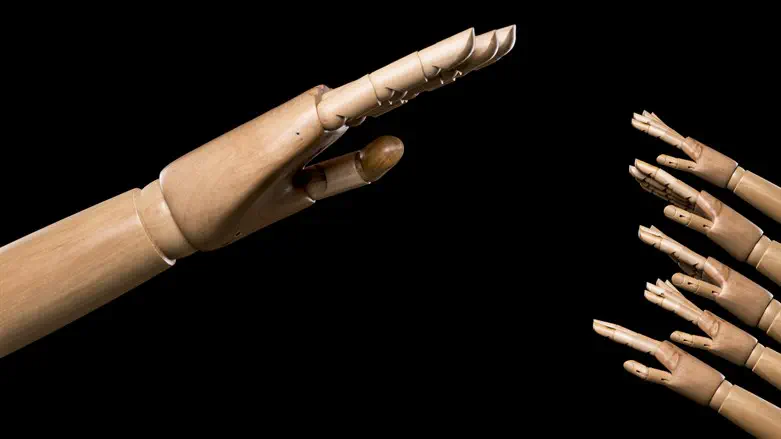 Nazi salute
iStock
Turkish Jewish leaders said they are taking action after students at Istanbul's Üsküdar American Academy reportedly performed the Nazi salute during a soccer game against Istanbul's sole Jewish day school, JTA reports.
The students from the American Academy, considered one of Istanbul's most elite, delivered the gesture at the game on Tuesday as a taunt following goals by the Ulus Jewish School team, according to reports on Twitter and in Avlaremoz, a Turkish Jewish media outlet.
Turkey's official Jewish communal organization condemned the incident, saying it was in contact with the American school's board and that "necessary initiatives will be taken," though it did not specify what those initiatives might be.
The American Academy is also investigating what unfolded at the game, according to a statement it issued on Wednesday.
"We would like to emphasize that we stand against all kinds of discrimination in accordance with our institutional and educational philosophy," said the statement quoted by JTA. "We have urgently contacted the school officials of Ulus Private Jewish High School, conveyed our regrets and initiated the necessary investigation."
Üsküdar American Academy was founded in 1876 by an American Christian missionary organization operating in the Ottoman Empire. The school teaches mostly in English and boasts that its graduates largely attend leading foreign universities. It does not have an affiliation with the US government, as some other American schools abroad do, according to a spokesperson from the US consulate in Istanbul.
Turkey has seen a rise in antisemitic hate crimes since the rise of the AKP party headed by President Recep Tayyip Erdogan. The Anti-Defamation League found in 2015 that 71% of adults held antisemitic views, according to an index the group developed.
Several years ago, the governor of the northwestern province of Edirne was accused of inciting hatred towards the country's Jewish community, after suggesting a synagogue be turned into a museum as a reprisal for Israel's policies over the Al-Aqsa mosque in Jerusalem.
In 2017, Turkish ultra-nationalists protested outside the Neve Salom synagogue in central Istanbul, one of the most significant synagogues in the city, to denounce Israel's security measures on the Temple Mount.
American officials several years ago expressed deep concern over the rising levels of antisemitism in Turkey, after a report revealed that young Turkish Jews were leaving the country in droves as a result of the antisemitism.
However, public incidents of antisemitism in recent years have largely stemmed from Islamist and Turkish nationalist factions, rather than secularist bastions like Üsküdar American Academy, noted JTA.