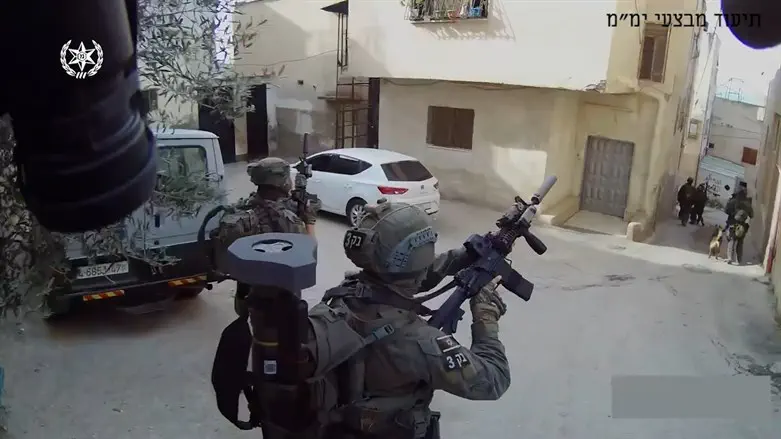 Yamam soldiers in Jenin
Police spokesperson
Three terrorists were killed in a firefight with IDF forces in Jenin Thursday afternoon. Arabic media reported that a fourth person was
Kan News reported that after the terrorists were eliminated, a mob surrounded the IDF vehicle and threw stones and other objects at the soldiers. The soldiers fired into the air and fled into a nearby store. Another force was called in to safely extract them from the store.
The IDF said in a statement that two of the terrorists were members of the Islamic Jihad terrorist organization. A third terrorist who was killed was identified by Arabic reports as a member of the Hamas terrorist organization.
"A short while ago, in a joint IDF, ISA, Israel Border Police and Israel Police forces intelligence-based counterterrorism activity in the city of Jenin, two wanted armed suspects were neutralized," the IDF stated.
"One of the wanted suspects who was neutralized was Nidal Amin Khazem, an operative belonging to the Islamic Jihad terrorist organization from the Jenin Camp, who advanced significant terrorist activities. The additional wanted suspect was Yousef Abu Shreim, an Islamic Jihad terrorist operative from the Jenin Camp, who was involved in terror activities, including the manufacturing of explosives and firing at IDF soldiers.
"An additional suspect was neutralized after attempting to attack the forces with a crowbar. During the activity, an exchange of fire was instigated between the forces and a number of armed gunmen. Hits were identified. Furthermore, violent riots were instigated, in which suspects hurled rocks at the forces. No IDF injuries were reported. Israeli security forces will continue to operate to thwart terrorism and maintain the security of Israel," the IDF statement concluded.
Israeli security forces have operated in Jenin multiple times in recent weeks in response to a spate of deadly terrorist attacks.
Last week, IDF, Yamam, and Shin Bet forces came under fire while carrying out an operation to arrest wanted terrorists in Jenin. Six terrorists were killed in the battle, including al-Fattah Hussein Ibrahim Gharusha, the Hamas terrorist who shot and killed 21-year-old Hallel Yaniv and 19-year-old Yagel Yaniv in a shooting attack in the Arab village of Huwara in Samaria last month.