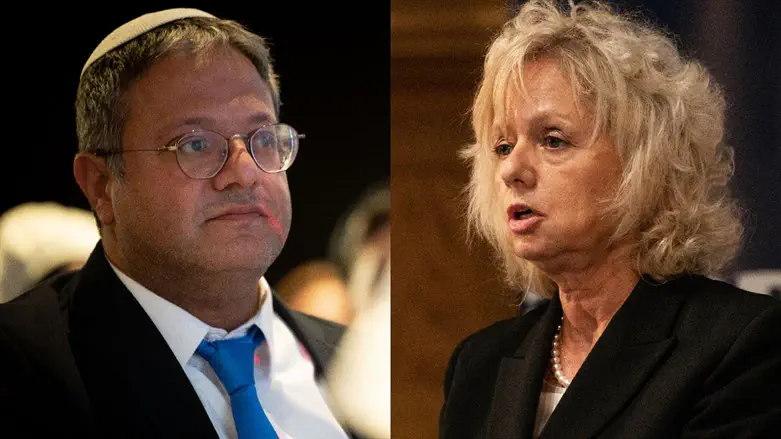 Itamar Ben Gvir and Gali Baharav-Miara
Shir Torem/Flash 90, Yonatan Sindel/Flash 90
Attorney General Gali Baharav-Miara on Wednesday night published her position regarding petitions that were filed with the Supreme Court and which request that National Security Itamar Ben Gvir be ordered to refrain from outlining policy regarding the Israel Police's conduct during protests against the judicial reform and the government.
Another petition, concerning the dismissal of Tel Aviv District Commander Chief Ami Eshed which Baharav-Miara has already frozen, asks the Supreme Court to issue an interim order prohibiting Ben Gvir from interfering with the appointments of senior police officers.
The Attorney General clarified in her position that Minister Ben Gvir has the authority to outline a general policy for police activity, including regarding demonstrations - but he must refrain from giving operative instructions to the police, directly or indirectly - even when they are given under the guise of policy instructions.
"The sequence of events described in the requests, which can be learned from, among other things, the minister's own publications, and the information provided by the police, raise a real concern that the conduct of the Minister of National Security crossed the line, and was intended to interfere or constitute an attempt to interfere with the professional and independent judgment given to the commanding echelon of the Israel Police on the ground, and this also occurred in real time in relation to individual events concerning the protests taking place against the government these days," wrote Baharav-Miara.
"The consistent position of the Attorney General, as reflected over the years in various opinions, is that the Minister of National Security is allowed to outline a general policy for the Israel Police, but he is not allowed to interfere in the operative and operational implementation of the policy, including by way of giving concrete instructions regarding individual events as they occur," she added. "Matters such as this are reserved for the professional level of the Israel Police, and only to it, in accordance with their professional judgment."
The Attorney General also wrote that "events such as demonstrations, and in particular when they are directed towards the political echelon, make it necessary to ensure that the policy that will be established will preserve for the police a sufficiently wide professional scope, which is protected from political influences. Therefore, as far as the policy in the field of demonstrations is concerned, it is extremely important to draw as clear boundaries as possible between the authority of the minister and the authority of the police in these sensitive matters, and this in order to ensure that the right to demonstrate is not excessively harmed, and the ability of the police to act professionally, impartially and free from political influences is guaranteed, and maintain the public's trust in it as such."