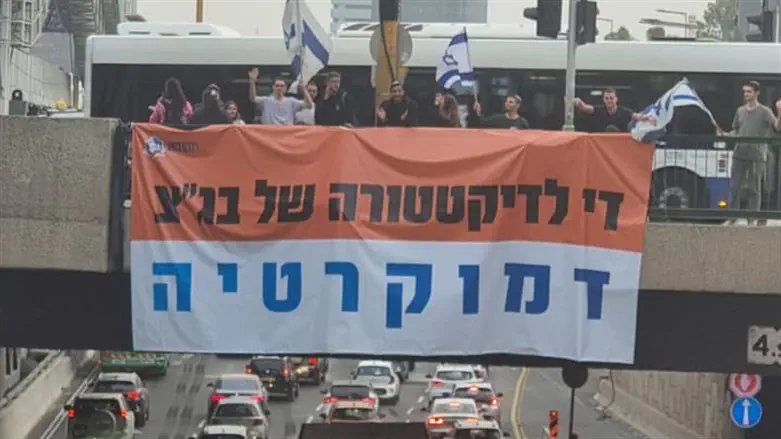 Supporters of judicial reform protest in Tel Aviv
Courtesy
Dozens of supporters of the government's planned judicial reform staged a protest on Ayalon Highway in Tel Aviv on Monday evening.
The activists waved Israeli flags and huge signs that read: "Enough with the dictatorship of the Supreme Court - democracy."
The protest joins the broad campaign currently being led by an organization called Tekuma 23. As part of the campaign, billboards were hung all over the country supporting the initiatives promoted by Justice Minister Yariv Levin and MK Simcha Rothman.
The signs were hung on dozens of roads, bridges, intersections and central places in the country and the photos of the leaders of the legislation appear on them.
Berale Crombie from Tekuma 23 said, "It's time for right-wingers to take to the streets. It is inconceivable that the left would try to steal the elections here and continue the dictatorship of the Supreme Court, and the right will stay at home."
"The sounds of the horns of the drivers from all over the country who are honking to show their support for the activists prove - the people want the judicial reform," he concluded.