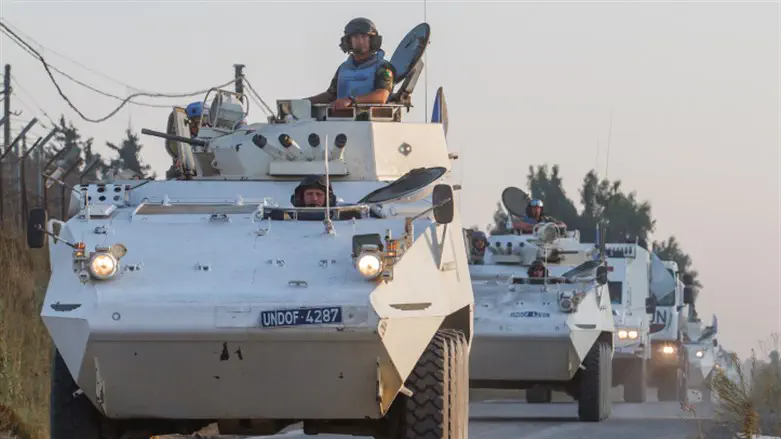 UNDOF peacekeepers in Golan Heights
Flash 90
Ireland will withdraw its soldiers from the UN peacekeeping force stationed on the border between Israel and Syria in the Golan Heights, i24NEWS reported Thursday.
According to the report, Irish Defense Minister Michael Martin informed the government that the 130 infantry troops stationed on the Syrian side of the border as part of the United Nations Disengagement Observer Force (UNDOF), which monitors the 1974 ceasefire line between Israel and Syria, will be withdrawn in the near future.
The decision was made based on an "overseas engagement sustainability assessment" of the Irish military overseas missions, said Martin. The exact date of withdrawal will be discussed with UN officials.
"That assessment has now been completed, and the military advice provided to me was that the Defense Forces should reduce our commitments with UNDOF in preparation for our participation in the EU Battlegroup," Martin was quoted as having said.
Irish forces have been involved in UNDOF since September 2013. Its troops also include soldiers from Nepal, India, Uruguay, Fiji, Ghana, the Czech Republic and Bhutan.
UNDOF briefly withdrew from the Syria-Israel border in 2014, after Al-Qaeda-linked rebels overran the area, but ultimately returned to the region.
In late August of 2014, rebels on the Syrian side including Al-Qaeda affiliate Al-Nusra Front kidnapped more than 40 Fijian UNDOF troops and released them unharmed two weeks later.
The fighters also clashed with 75 Filipino members of the force, who eventually fled a nearby outpost in a worrying sign of spillover from Syria's war and were recalled back to their home country.