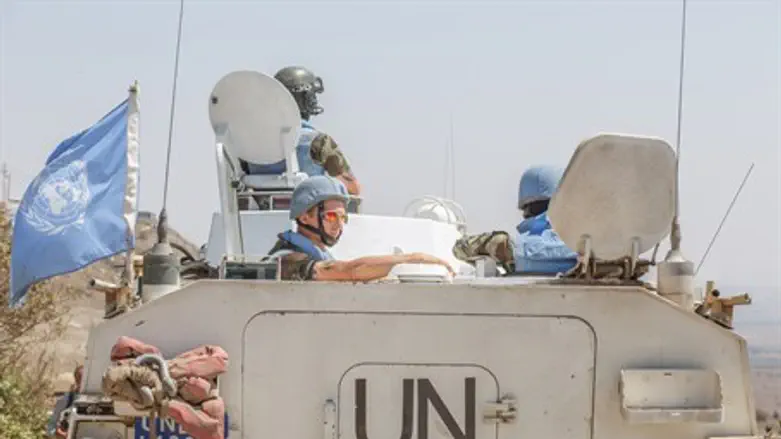 UN forces in the Golan Heights (file)
Flash 90
The Philippines has pulled its UN peacekeepers from the Golan Heights a month ahead of schedule amid worsening security, a military spokesman said Friday.
A total of 244 of the 344 Filipino soldiers and staff will arrive back in Manila later Friday, with the rest flying in the next week or so, military spokesman Lieutenant-Colonel Ramon Zagala told AFP.
"Troops are being repatriated because of the deteriorating security situation," Zagala said, adding the UN had approved the withdrawal. "Protection of our soldiers is in the national interest."
Some of the troops were among the 75 Filipino soldiers who were held at a tense standoff with Syrian rebels demanding their surrender, before they eventually succeeded in fleeing to Israel. The rebels also abducted 45 Fijian peacekeepers who were later freed unharmed.
Despite the Golan pullout, the Philippines will continue joining UN peacekeeping missions abroad and is set to replace its 150-strong force in Haiti this month, Zagala said, adding "we are still committed to the UN."
The UN Disengagement Observer Force (UNDOF) withdrew hundreds of members of the peacekeeping force from the Syrian side to the Israeli side of the Golan Heights on Monday, after Syrian rebels advanced on their positions in fighting that has occasionally spilled over into Israel.
The rebel forces, which include Al Qaeda-linked Nusra Front forces, have seized UN weapons, equipment and uniforms in their recent campaign that has seen the Syrian Golan Heights fall completely into their hands.
Six countries contribute troops to the 1,200-strong UN force on the Golan: Fiji, India, Ireland, Nepal, the Netherlands and the Philippines.