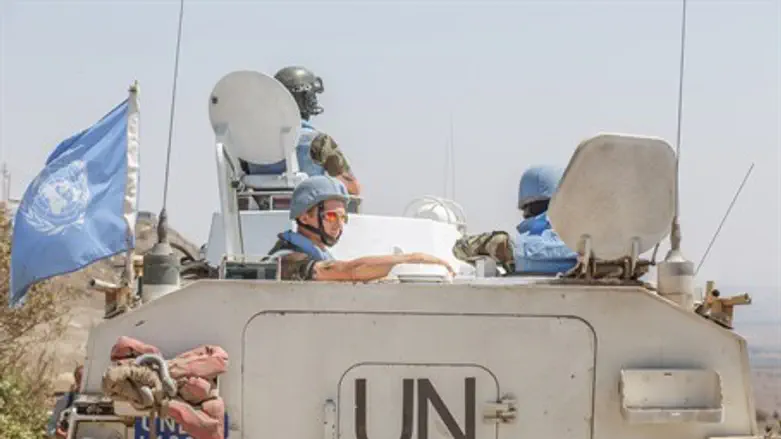 UNDOF peacekeepers (file)
Flash 90
Hundreds of UN troops withdrew from the Syrian to the Israeli side sector of the Golan Heights on Monday, two weeks after Al-Qaeda-linked rebels kidnapped dozens of the peacekeepers.
They crossed in a UN convoy in the afternoon into the Israeli-occupied sector, an AFP correspondent said.
There was no confirmation from the United Nations Disengagement Observer Force (UNDOF), which monitors a 1974 ceasefire between Israel and Syria on the Golan Heights.
In late August, rebels on the Syrian side including Al Qaeda affiliate Al-Nusra Front seized the Quneitra crossing and kidnapped more than 40 Fijian UNDOF troops, before they were released two weeks later.
They also clashed with 75 Filipino members of the force, who eventually fled a nearby outpost.
Rebels including Al-Nusra have now taken control of most of the Syrian side of the Golan Heights from forces loyal to Syrian President Bashar al-Assad, a Britain-based Syria monitoring group said on Saturday.
The fighting has driven thousands of Syrian families in the area from their homes, the Red Cross said.
"Clashes between government forces and the armed opposition have intensified in recent days in Quneitra governorate - in Quneitra city in particular, where access to clean water, food, and health care is limited," the International Committee of the Red Cross said in a statement.
The ICRC said it has provided emergency relief for more than 50,000 people, but warned the number of displaced people was "expected to grow."
Israel captured the 1,200 square kilometers (460 square miles) of the Golan during the Six-Day War of 1967, then annexed it in 1981. 
Some 510 square kilometres of the Golan remain on the Syrian side of the ceasefire line, with UNDOF overseeing a buffer zone stretching some 70 kilometres from Lebanon in the north, to Jordan in the south.  
UNDOF's mandate is renewed every six months, and currently runs until December 31.
Six countries contribute troops to the 1,200-strong UN force on the Golan: Fiji, India, Ireland, Nepal, the Netherlands and the Philippines.
Arutz Sheva staff contributed to this report.