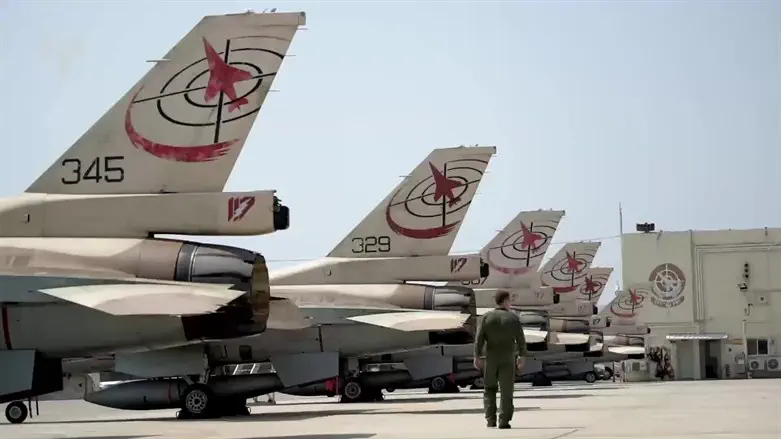 Illustrative
IDF spokesman
A Colonel in the reserves of the Israel Air Force (IAF) has been dismissed from his position, after it was determined that not only had he participated in protests against the government's judicial reforms, but was also actively encouraging other reserve pilots not to report for reserve service in protest against the government's agenda.
IDF Chief of Staff Herzi Halevi approved the dismissal, citing a "crisis of trust" between the IAF commander and an officer.
The IDF later released a statement, noting that: "Last night, the Commanding Officer of the Israeli Air Force, Maj. Gen. Tomer Bar, had an official discussion with Col. (Res.) G., in light of his conduct during the current events. At the end of the discussion, the Commanding Officer of the IAF determined that Col. G. would not be able to continue serving in reserve duty until further notice, as he had acted contrary to the Commanding Officer of the IAF's instructions in a manner that was not appropriate for his rank and status.
"Col. G. will be entitled to bring his claims before the Chief of the General Staff before a final decision is made regarding his continued service. The IDF appreciates its reservists and respects their right as civilians to act as their conscience dictates while leaving the IDF outside of any public controversy, in order to maintain its capabilities and the public's trust in it."
The dismissed officer belonged to the IAF's 69th fighter squadron, an elite unit. On Sunday, 37 out of 40 reserve pilots from the squadron announced that they would not be showing up for their scheduled combat training this Wednesday in protest against the government's planned judicial reforms.
According to reports, the pilots informed the commanders of the Air Force and the commander of the squadron of their decision to protest in front of government offices rather than return to the base for their scheduled training.
On Tuesday, after intensive behind-the-scenes efforts, the pilots backtracked, announcing that they would "respond to the call of our commanders and report to the unit tomorrow to talk to the soldiers," adding that they "have full confidence in the commanders and will continue to serve the Jewish and democratic State of Israel as long as necessary."
The pilots later met with Defense Minister Yoav Gallant, Chief of Staff Herzi Halevi, and Air Force Commander Major General Tomer Bar. At the meeting, the pilots asked Gallant to pressure Prime Minister Benjamin Netanyahu and Justice Minister Yariv Levin to halt the legislative process toward judicial reform and start negotiations with the opposition. The government has invited the opposition numerous times to hold negotiations, but the Yair Lapid and Benny Gant insist that there must be a halt to the legislation before they agree to talks.