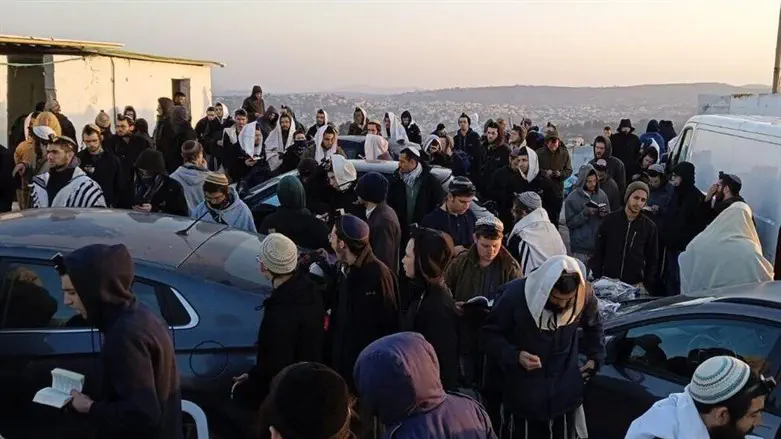 Evyatar
Yinon Krakover
Prime Minister Benjamin Netanyahu on Sunday held a discussion on the question of how to settle the outpost of Evyatar and establish a yeshiva there, as the previous government had promised to do.
The agreement between the residents of Evyatar and the previous government stipulated that the residents would leave the outpost and, in return, Israel would convert the site into a hesder yeshiva.
Channel 13 News reported on Monday that the discussion was held at the request of National Security Minister Itamar Ben Gvir and Finance Minister and Minister in the Ministry of Defense Bezalel Smotrich. Attending the meeting were Defense Minister Yoav Gallant, Chief of Staff Major General Herzi Halevi, Coordinator of Government Activities in the Territories Colonel Ghasan Alyan and other senior officials in the defense establishment.
The defense officials, led by the Chief of Staff and the Minister of Defense, expressed opposition to the establishment of the yeshiva at the current time, due to the political-security tensions both with the Palestinian Authority and with the United States and Europe.
Gallant said, "It is impossible to promote such a move two weeks before the start of Ramadan, it is a very explosive decision." The discussion ended without any agreement, and the Prime Minister still hasn't made a final decision.
National Security Advisor Tzachi Hanegbi, who is currently in Washington for talks regarding the Iranian issue, also participated in the discussion via video for a short period of time.
The Prime Minister's office stated that they "do not comment on closed discussions". There was no response from the offices of the Minister of Defense and the Minister of National Security. The IDF said that they "do not comment on closed discussions".