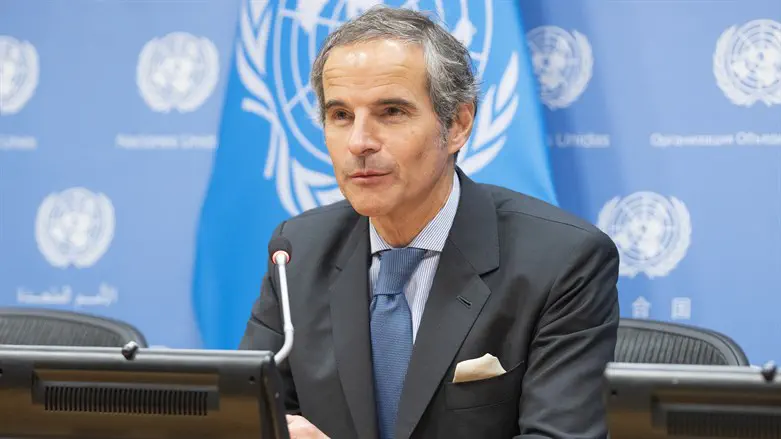 Rafael Grossi
Lev Radin/Sipa USA via Reuters Connect
Iran said on Monday that the head of the International Atomic Energy Agency (IAEA), Rafael Grossi, will visit Tehran "in the coming days", amid a row over uranium enrichment levels in the Islamic Republic, AFP reported.
IAEA inspectors recently found uranium enriched to 84-percent purity in Iran. The Islamic Republic was last known to enrich up to 60 percent, while a 90-percent threshold is required for use in a weapon.
Iran denied the report, insisting it had not made any attempt to enrich uranium beyond 60 percent.
On Monday, the Atomic Energy Organization of Iran said Grossi would travel to Iran "in the coming days" following an official invitation from its director, Mohamamd Eslami.
"In recent days, we have had constructive and promising discussions" with the IAEA delegation that was already in Iran to clear up any doubts about its nuclear program, AEOI spokesman Behrouz Kamalvandi was quoted as having said.
"It is hoped that this trip will form the basis for greater cooperation and a clearer horizon between Iran and the IAEA," he added.
The discovery of the uranium comes as talks between Iran and world powers on reviving the 2015 Iran nuclear deal remain stalled.
Former US President Donald Trump withdrew from the 2015 Iran nuclear deal in 2018, and Iran responded by scaling back its compliance with the agreement.
The Biden administration sought to return to the deal and held indirect talks with Iran on a return to compliance.
Those talks have been stalled since September, when Iran announced it had submitted its comments to the US response to the European Union's draft for reviving the 2015 Iran nuclear deal.
While Iran's Foreign Ministry spokesperson said at the time that Iran's response was prepared based on a constructive approach, a senior Biden administration official said the Iranian response "is not at all encouraging."
A US official later said that the efforts to revive the 2015 Iran nuclear deal have "hit a wall" because of Iran's insistence on the closure of the UN nuclear watchdog's investigations.
Last month, Grossi warned that Tehran has amassed enough material for "several nuclear weapons", though he added that Iran has not yet built a nuclear weapon and the West should redouble efforts to stop it from doing so.