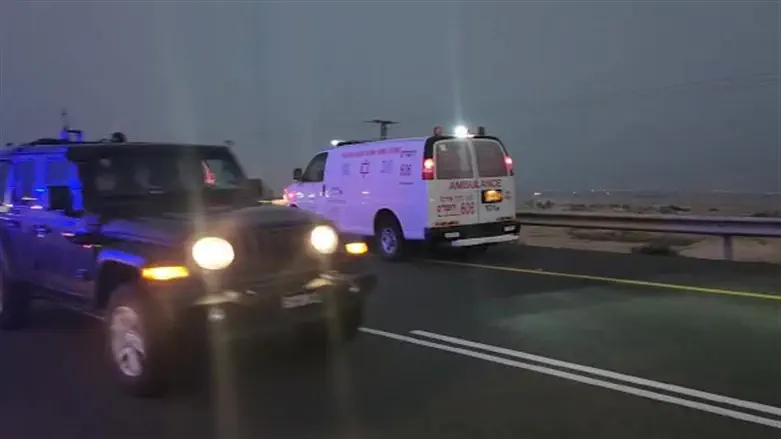 scene of the shooting
MDA Spokesperson
A 27-year-old man was murdered in a terrorist shooting attack at the Beit HaArava Junction between the Dead Sea and Jericho Monday afternoon, raising the death toll in the recent spate of terrorist attacks to 14.
The shooter fled the scene. A security official said that the attacker opened fire at three different locations in the area.
"We identified smoke and approached a vehicle on fire… and we realized that it was the vehicle that had been used by the terrorists," a police officer stated, adding that the terrorist had set the vehicle on fire.
Police forces later located the terrorist who took aim at them. A shootout ensued, but the terrorist managed to escape in the direction of Jericho.
Magen David Adom and United Hatzalah personnel treated the victim at the scene and evacuated him to Hadassah Mount Scopus Hospital in Jerusalem, where he later succumbed to his wounds.
United Hatzalah volunteer EMT Eilon Lubiner said: "Together with additional first responders we performed CPR on a man in his 20s who suffered from gunshot wounds in his upper body. He is now being evacuated to Hadassah Mount Scopus Hospital in critical condition while undergoing continued resuscitation efforts."
The shooting is the second deadly terrorist shooting attack in Samaria in as many days.
Yesterday, a terrorist opened fire at an Israeli vehicle near the Arab village of Huwara in Samaria, murdering 22-year-old Hillel Menachem Yaniv and his brother, 20-year-old Yagel Yaakov Yaniv. The brothers were hesder (pre-army) yeshiva students, and were killed while driving back to their yeshivas from their home in the community of Har Bracha.
The two were laid to rest in a funeral which was attended by thousands of people at Mount Herzl in Jerusalem Monday afternoon.
Among the mourners were Defense Minister Yoav Gallant (Likud),Finance Minister Bezalel Smotrich (Religious Zionist Party), National Missions Minister Orit Strock (Religious Zionist Party), Ofir Sofer (Religious Zionist Party), Construction and Housing Minister Yitzhak Goldknopf (United Torah Judaism), Health Minister Yoav Ben-Tzur (Shas), and MKs Simcha Rothman (Religious Zionist Party), Amit Halevy (Likud), Tally Gotliv (Likud), and Matan Kahana (National Unity).
Esti Yaniv, the mother of the two victims, told reporters before the funeral: "What is there to say? Instead of taking them to the chuppah [marriage canopy], we need to bury them."