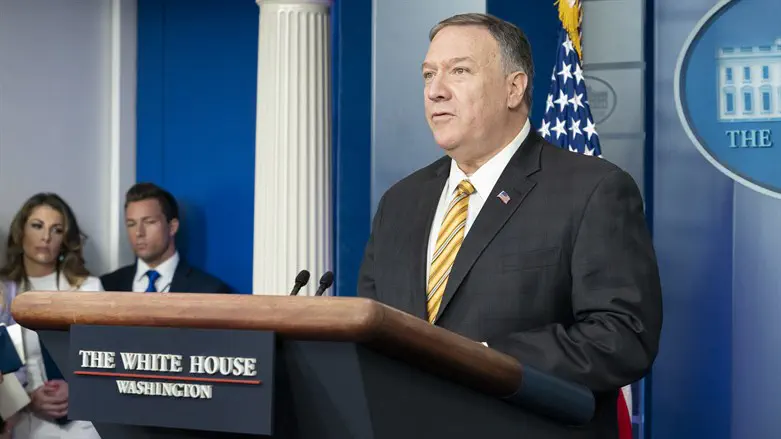 Mike Pompeo
Official White House Photo by Andrea Hanks
Former US Secretary of State Mike Pompeo says he believes Israel has a Biblical claim on Judea and Samaria and is, therefore, not an occupying force.
"[Israel] is not an occupying nation. As an evangelical Christian, I am convinced by my reading of the Bible that 3,000 years on now, in spite of the denial of so many, [this land] is the rightful homeland of the Jewish people," the former official told the One Decision podcast.
Pompeo was asked about the Israeli government's planned judicial reform and whether he felt that American's historic partnership with Israel was conditional on adherence to democratic principles. Pompeo responded that although he prefers not to discuss foreign countries' domestic policies, he would note that while the American government always advocates for democracy, it still maintains close ties with several nations that are not democracies, such as those in southeast Asia and the Middle East. He added that if an ally planned to do something that was perceived as inconsistent with US interests, they would ask them to refrain.
Nonetheless, Pompeo insists that Israel's judicial reform is a relative non-issue compared to other problems in the region. "If you look at the list of troubles we have in the Middle East, that doesn't make the 'hit parade,'" he said. "Let's start with the fact the Iranians continue to hold people with US passports and British passports, or we could start with the observation that the Iranians are trying to kill Americans here at home, including former US senior government officials."
The former Secretary of State also discussed the Abraham Accords and the benefit they bring to the American public. "I'm happy about the Abraham Accords because the chance that a US Marine will have to fight and die is substantially lower now that peace and prosperity are on the march in the region. We fundamentally took down the risk for the United States of America as a result of the Abraham Accords," he stated.
"What's in America's best interest? Is it to sit and wait for Abu Mazen [PA chairman Mahmoud Abbas], a known terrorist who's killed lots and lots of people, including Americans … to draw a line on a map? That's what the State Department would do. The previous Secretary of State ran back and forth from Tel Aviv to Ramallah and tried to draw lines on a map. We said: 'That's not in America's best interest. Let's go create peace,' and we did." he said.
Throughout the interview, Pompeo refused to voice support for a two-state solution, saying that he supports an outcome that guarantees Israeli security and makes life better for everyone in the region.