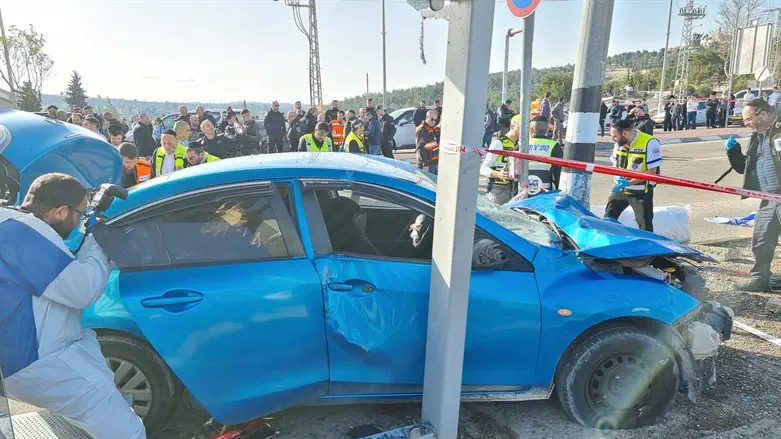 Scene of the ramming
Israel National News
Abdel-Latif al-Kanou, the spokesman for the Hamas movement, praised the ramming in Jerusalem and says that all attempts to contain the "revolutionary reality" in Judea, Samaria, and Jerusalem will not succeed.
At an event in support of Jerusalem and the fight for Judea and Samaria held in the northern Gaza Strip (Friday), Al-Kano'a blessed the "revolutionaries in the West Bank, Jerusalem, and other occupied Palestinian territories" stressing that "the struggle is the most effective way to deal with the Zionist occupation ".
Al-Kanou noted that the struggle in the Palestinian Authority will escalate and continue to expand while the Palestinian organizations in the Gaza Strip will serve as a shield for the Palestinian people.
He also said that "the organizations of the struggle will not hesitate to bring about a new campaign of Harab al-Quds" and that "the occupation will pay a price for its crimes" and "our people (the Palestinians) will thwart the plans of the fascist Zionist government."
"We will not run away from the arenas of struggle (with Israel) until the liberation (of Palestine) and the return (of the refugees and their descendants) are achieved," Al-Kanou said.