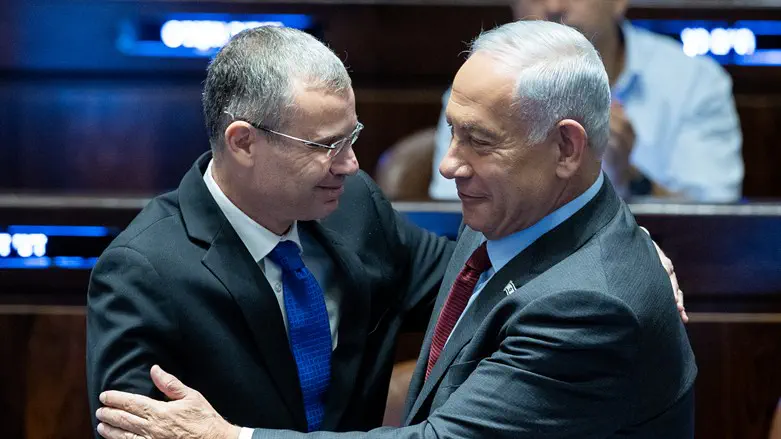 Netanyahu and Levin
Yonatan Sindel/Flash90
Justice Minister Yariv Levin has threatened to resign from his position if Prime Minister Benjamin Netanyahu halts or significantly modifies his proposed reforms of Israel's judicial system, Channel 13 News reported.
According to the report, Netanyahu is not currently involved in the efforts to pass the judicial reform, in accordance with the opinion of Attorney-General Gali Baharav-Miara that he cannot be involved due to a conflict of interest regarding his ongoing corruption trials.
However, it seems that Minister Levin is preparing himself for the possibility that Netanyahu will accept - at least partially - the harsh criticism hurled by the opposition against the reforms and will agree to conduct negotiations which will significantly change the content of the reforms.
On Sunday, Levin responded to President Isaac Herzog's proposal that negotiations be started in an attempt to reach an agreed upon legislation, and clarified that "there will not be a freeze in the legislation process, even for a minute."
In an interview with Channel 13 News, Levin blasted Attorney-General Gali Baharav-Miara and said that "the story of the Attorney-General is one big tragedy," and that he expects her "to engage in deep soul-searching."
Levin explained, "I seek to implement the policy for which I was elected. I submitted a memorandum of law, I asked to publish it to the public, and the Attorney-General replied that she would comment on the memorandum. Unfortunately, I received in response a pamphlet that does not hold water, and furthermore, the Attorney-General did exactly what we are so outraged about - instead of giving advice, she decided that the reform is not acceptable to her, and she thwarted all progress.
"All the attempts to put spokes in the wheels will not help. This reform is fundamental and touches on important issuse for a democratic regime. I am convinced that we will pass it despite this conduct. If things do not change, we will take action," he continued.