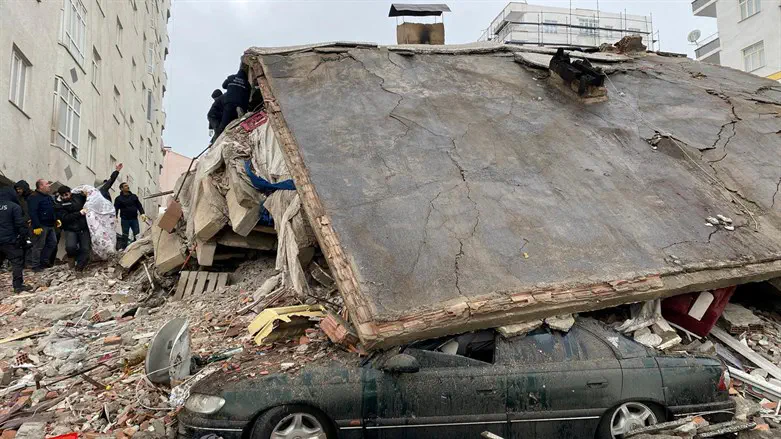 Scene of devastation in Turkey following earthquake
Reuters
The home of the president of the Jewish community of Antakia, Turkey, was one of the many thousands of buildings left in rubble following Monday's devastating earthquakes, and it is feared that the president and his wife are no longer among the living.
Irit Lilian, the Israeli ambassador to Turkey, reported on Tuesday morning that no signs of life had been received from the couple. "Unfortunately, the president of the Jewish community of Antakia and his wife have probably lost their lives," she said. "Their home is in ruins. As for Israelis caught up in the disaster, we're still in the process of checking up on everyone. The disaster zone isn't one that many Israelis visit. As far as we know at this point in time, there are no distress calls going out for any Israeli citizens who are missing."
Speaking to Channel 12 News, Lilian added that, "Very few Jews were in the area, which is a relatively remote one. There were a few Jews here and there, but that's it. The president of the Jewish community of Istanbul traveled out there yesterday and later told me that as far as anyone knows, all the Jews there are accounted for, except for the couple in Antakia.
"There have been a series of quakes," she added. "Aside from the two main earthquakes, there have been many aftershocks but also some new, more minor tremors.
"Delegations from all over the world are arriving," she continued. "This is something quite exceptional in Turkey. Following previous natural disasters, they made no appeals to the international community, and certainly not so swiftly as this time, when they made their appeal right after the first earthquake. Teams from Greece have already arrived, and also from Azerbaijan and several European countries. I think a delegation from the United States is arriving later today. There's been an amazing international response."