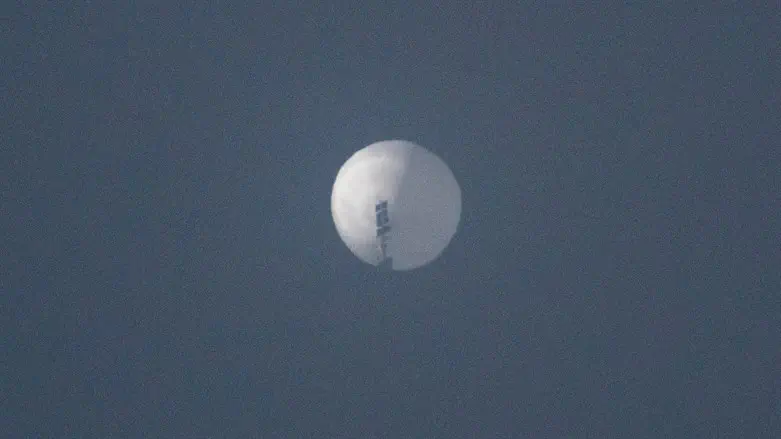 The suspected Chinese balloon seen over Billings, Montana
Chase Doak/via REUTERS
The US military said on Sunday it is searching for remnants of the suspected Chinese surveillance balloon it shot down the previous day, Reuters reported.
The US Navy is working to recover the balloon and its payload and the Coast Guard is providing security for the operation, said General Glen VanHerck, commander of the North American Aerospace Defense Command and US Northern Command.
A successful recovery could potentially give the United States insight into China's spying capabilities, though US officials have downplayed the balloon's impact on national security.
The US on Saturday downed the suspected Chinese spy balloon off the coast of the Carolinas. Live TV news captured the moment the balloon was downed. In the live footage, a small explosion can be seen, after which the balloon slowly falls toward the water.
China later said it is "strongly discontented" with the US downing of its surveillance balloon, adding it reserves the right for any necessary reaction to the incident.
The use of force against the balloon, which China said is for civilian use and entered the US accidentally, was an "obvious overreaction" and violated international standard practices, China's Ministry of Foreign Affairs said in a statement quoted by Bloomberg.
The decision to down the balloon came a day after the Pentagon ruled out doing so, saying that "any potential debris field would be significant" and could cause "civilian injuries or deaths or significant property damage".
Meanwhile on Sunday, Republican lawmakers criticized President Joe Biden for waiting days to shoot down the balloon as it floated over the United States, accusing him of showing weakness toward China and initially trying to keep the breach of US airspace undisclosed.
"I think part of it is the president's reluctance to take any action that would be viewed as provocative or confrontational towards the Chinese communists," said Republican Tom Cotton, a member of the Senate Armed Services Committee, according to Reuters.
Democrats said Biden's decision to wait to shoot down the balloon until it had passed over the United States protected civilians from debris crashing to Earth.