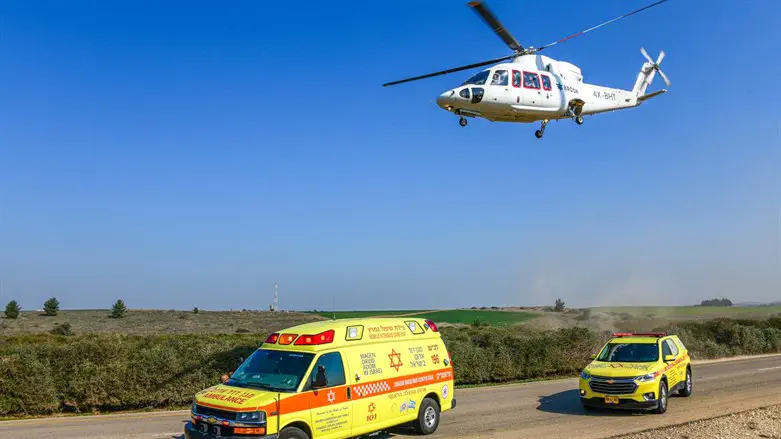 Medevac helicopter
MDA Spokesperson
Magen David Adom (MDA), Israel's national EMS organization, and Hatzolah Air, an American aviation organization that provides emergency medical air transport, have formed a partnership that will put MDA's flight paramedics aboard Hatzolah Air and MDA Medevac helicopters to provide medical evacuations in Israel.
Hatzolah Air, headquartered in New York, operates a fleet of Medevac aircraft and receives dozens of requests each month for aviation rescues in the US, Israel and many other countries globally. Hatzolah Air is not in any way affiliated with the similarly named United Hatzalah, which is a separate and unrelated organization.
"This partnership will ensure that seriously injured and critically ill Israelis who find themselves far from medical facilities will get the lifesaving care they need," said Eli Bin, director-general of Magen David Adom. "And it is another connection between MDA and the American Hatzolah movement, strengthening the cooperative relationship we've long had."
"The relationship between MDA and Hatzolah goes back decades," said Eli Rowe, president of Hatzolah Air. "When Israel has been under rocket attack or reeling from terrorist bombings, Hatzolah Divisions from across America sent teams of doctors, paramedics, and EMTs to provide Israel with additional resources in their hour of need."
Likewise, MDA regularly provides American and International Hatzolah members with high-level training conducted in the U.S. and Israel and, more recently, has made its cutting-edge dispatch technology available to its American counterparts.
MDA provides Medevac flights out of Tiberius in Israel's north and near Be'er Sheva in the south, providing nationwide coverage for people critically ill and injured and far from hospitals or the specialized medical care their conditions require. Ever since MDA established Medevac services in Israel more than 15 years ago, it contracted with Lahak Aviation to provide the helicopters and pilots, while medical crews consist of MDA paramedics. The contract with Lahak expires in March.
This new initiative will take effect before the contract with Lahak expires, providing a brief overlap to ensure continuous and uninterrupted Medevac services. Under the agreement, pilots will be provided by Israel-based Brook Aviation and all medical crews will consist of MDA paramedics, as has been the case since the program's formation.
"Previously, we have successfully partnered with Hatzolah Air on medical evacuations," said MDA's Eli Bin. "This has included single patients and, in the case of our recent work transporting Ukrainians to Israel, many injured refugees, patients, and Holocaust survivors. We look forward to Hatzolah Air upgrading and expanding MDA's airborne medical evacuation capabilities."
As an organization exclusively dedicated to providing emergency medical flights, using both helicopters and jets, Hatzolah Air's partnership with MDA provides the organizations with the potential for expanded medical flight services, including transporting patients to or from Israel for specialized surgeries and providing international relief flights in times of natural disasters.
"Strengthening the partnership between Hatzolah Air — and all the Hatzolah chapters — is ultimately all about achieving one goal," Hatzolah Air's Rowe said. "It's about saving more lives."