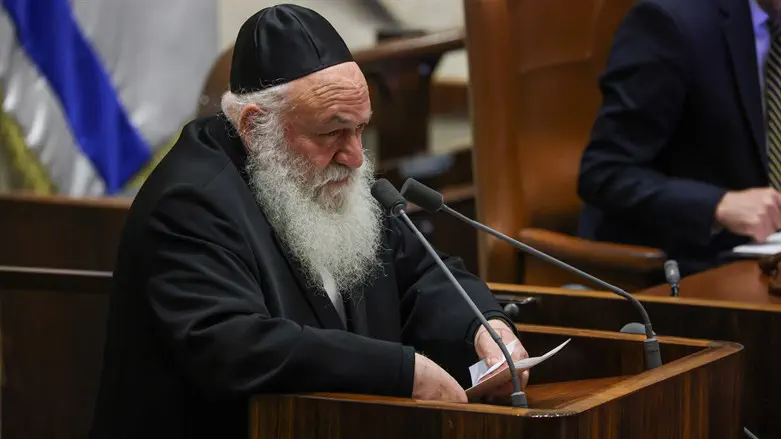 Yitzhak Goldknopf
Noam Moskowitz, Knesset spokesperson
Construction and Housing Minister Yitzhak Goldknopf will bring for government approval this coming Sunday a proposed resolution for the establishment of the town of Hanun, located east of Kibbutz Sa'ad in the Gaza envelope, within the Sdot Negev Regional Council.
According to the proposal, the Ministry of Construction and Housing will begin to promote the planning of Hanun (temporary name), following the approval and recommendation of the National Council for Planning and Construction that was given about a year ago.
The establishment of Hanun, its development and prosperity will symbolize more than anything the strengthening of the hold and the continuous action in this region of the country. In addition, the intended location of the town is between existing agricultural areas and close to central infrastructures, so that the process of establishing the town will be quick and save development costs, without harming the environment and landscape in the area.
Minister Goldknopf said, "This is a happy day for me and for all the citizens of Israel, the establishment of a new town is of enormous national importance, especially these days, and especially in the Gaza envelope region. When I took office, I made it my goal to continue to build, develop and strengthen the settlement. The new town is expected to provide a response to the demands in the region, and strengthen our southern border with the Gaza Strip."
The director general of the Ministry of Construction and Housing, Yehuda Morgenstern, said, "This is a significant and important step to expand settlement in the Gaza envelope, which will be a significant boost to the entire region. Planning, development and populating Hanun will give significant settlement momentum to the area. This is the first of many steps we are working on these days, with the goal of providing a solution to all Israeli citizens in finding a quality housing solution all over the country."
The establishment of the new town is in accordance with the government's policy for the promotion and development of the periphery and the strengthening of settlement in the periphery in the Negev and the Galilee and in the Gaza envelope.
In recent years, the demand for residences in the towns near the Gaza border has increased, but some of them have encountered difficulty in being absorbed in the existing town, since these are cooperative agricultural towns, most of which are settled, and the establishment of the new town is expected to answer this need.
The town will be established as a mixed community for about 500 religious and secular families in response to the growing demand for this form of settlement. Its design will be adapted for young families at different stages of their lives.