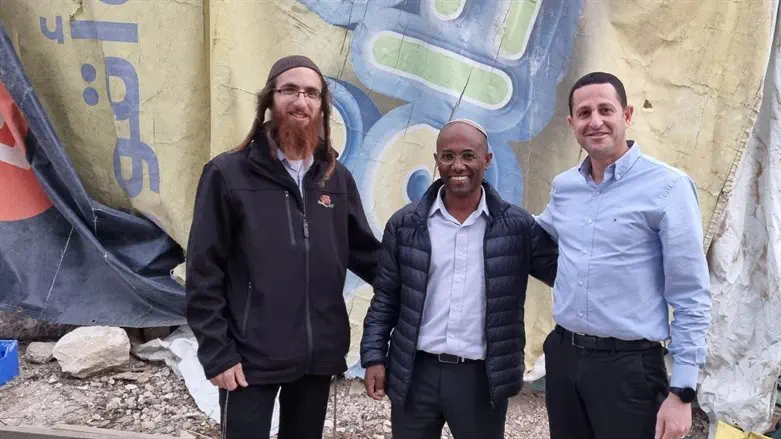 Ohad Tal and Moshe Solomon at Homesh Yeshiva
Courtesy
MKs Moshe Solomon and Ohad Tal from the Religious Zionist Party on Sunday arrived for a visit at the yeshiva in Homesh.
The MKs came to visit the yeshiva as part of the process of enacting the law that would repeal the disengagement from northern Samaria. The law is expected to be brought up for a vote in the Knesset soon.
The two promised to make sure that their election promise is fully kept and that the law will be repealed.
"I must admit that this is the first time I am here in this place, I am moved to the point of tears in my eyes," MK Tal said during the visit.
"Seeing here the streets, the roads, the sidewalks that have been destroyed, simply brings me back in an instant to the difficult days of the expulsion. I think that after what we saw over Shabbat, the terrible massacre that took place in Jerusalem, the proper Zionist answer to this is simply to do what we promised in the election campaign. Repeal the disengagement law and return the Jewish settlement here to this place."
MK Solomon added, "It is not my first time here, because I was also here when I served in the IDF, so I know the streets here, I know the place. But it hurts. It is sad to see a flourishing and amazing place, a place that is an ancestral property – destroyed. I am happy that the yeshiva is here, I am happy that there are people here who still have hope. Our responsibility is to cancel the disengagement law, bring the residents back here and bring back dozens more residents of the State of Israel to settle the land, and you are what we will do soon."
The administrator of the Homesh Yeshiva, Shmuel Wande, thanked the members of the Knesset for their visit and said, "I thank Ohad and Moshe. I simply asked and called you to come here and you immediately came and responded. I am confident that you and the entire faction will keep your election promise and we will see the repeal of the disengagement law from northern Samaria. We will of course have a party afterwards and you are invited."