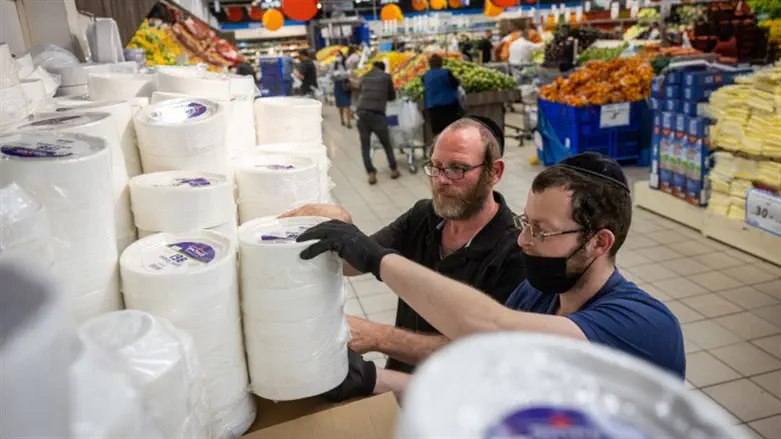 Disposable plates at Jerusalem supermarket
Yonatan Sindel/Flash90
The Israeli government on Sunday officially dropped the special tax on disposable cutlery, plates, bowls, cups and other dishware.
The government voted Sunday to back the plan pushed by Finance Minister Bezalel Smotrich (Religious Zionist Party), nullifying the tax imposed by former Finance Minister Avidgor Liberman (Yisrael Beytenu) under the previous government.
"We made a promise and kept it," said Smotrich at Sunday's government meeting. "I urged Israeli citizens to check with their local stores and minimarkets to confirm the price of disposables has gone down. We are all part of the war against the rising cost of living."
The move was strongly supported by the government's haredi allies, who claimed the tax was used to target haredi families, who tend to have larger families and often rely heavily on disposable utensils, plates, and cups.
But Enviromental Protection Minister Idit Silman (Likud) protested the end of the tax, even as she accepted criticism against the law for disproportionately impacting the haredi sector.
"Ideally, Israel should have done this incrementally… and not impose a decision which fomented antagonism against one specific group."
"But once the tax was in place it proved itself, and led to a significant reduction in the use of [disposables] and cut the environmental damage and health damage caused by use of disposable items."
"Given our responsibility to protect the environment and public health, this tax should not be nullified without a proper replacement."
Prime Minister Benjamin Netanyahu and Finance Minister Bezalel Smotrich vowed to find an alternative solution to reduce the use of disposables and bring the plan to the government for approval within half a year.
"I thank Prime Minister Netanyahu for his decision to bring a replacement in the next six months, together with Finance Minister Smotrich, to cut the use of disposables."